Best acne marks and acne scars removal medicated cream in Pakistan to treat the damaged skin tissue resulting in scars after healing.
Best 5 Acne Scar Removal Creams in Pakistan. Acne and Acne Scars are really annoying and fade out the beauty of the face. Acne is, in fact, a skin disease (not a serious health disease) but leaves behind unwanted annoying scars on the face.
Acne Scars are usually the result of severe kind of acne (causes enlarged skin pores with excessive oil and bacteria). When the acne zits and pimple swells causing a break in the follicle wall and in severe kind of acne it damages the skin tissue resulting scars after healing.
Acne scars rob face beauty. Their existence on the face makes you feel unattractive and also less confident.
Sometimes we don't find time for ourselves due to hectic daily schedule and even don't take care of our daily diet that leads to severe kinds of health problems and more importantly skin problems.
What causes Acne?
Acne occurs mostly on oily skin. Our hormones stimulate oil glands that cause acne. When your skin catches dirt it clogs pores. The dirt on the oily skin invites bacteria to sit and develop acne. Acne, blackheads, whiteheads, and pimples on the face and neck make our skin ugly and unattractive. A number of reasons contribute to causing acne including hormonal change, hormone increase in teenage years, use and stop of birth control pills, greasy makeup, pollution and the use of other medicine, etc.
Do's and Don'ts
First of all try to heal acne as soon as possible and visit the dermatologist.
For avoiding darkening of scars stay away from the sun and using a good quality of Sunblock cream.
Don't try to pop out pimple for healing it quickly as it's the main cause of deep acne scar and also cause more acne.
Avoid scrubbing on the acne oriented face.
Acne will go away but leave behind acne scars which take a long time to heal and in some cases remain forever on the face. There are a number of treatments (including Laser and filler treatments) available for removing acne scars but these treatments are a bit costly. You can also treat them with best-medicated cream for acne marks in Pakistan.
Today we will discuss with you about top 5 acne scar and acne marks removal cream in Pakistan.
There are a number of acne scar removal cream in Pakistan containing Hydroquinone that can lighten the darker area left from acne scars but it causes irritation and redness on the skin. So the best is to avoid acne marks removal creams with hydroquinone.
Acne marks removal creams with Kojic acid, lactic acid, glycolic acid, and fruit acids are best to treat acne scars.
Today we will tell you to top 5 acne scar removal creams in Pakistan that are not only effective but also price friendly. You can easily buy this acne marks removal medicated cream in Pakistan by visiting an authentic shop or via online shopping in Pakistan.
The first key to acne scar removing is patience. Neither creams nor treatments are magic everything takes time. So keep these things in mind before choosing any of the acne scar removal creams.
Mederma
Clean & Clear Advantage Mark Treatment:
Kate Somerville D-Scar Diminishing Serum
Dermonu Pigmentation and Acne Scar Removal Cream
Kojic Cream
Mederma:
Mederma is one of the best acne scars and acne marks removal medicated cream in Pakistan. The Mederma is a non-greasy and water-based cream. It improves the skin texture, color and appearance of acne scars. It's a clinically proven formula to visibly reduce the appearance of old and new acne scars,  surgery scars, and scars from burns, cuts, and other injuries. You can use Mederma which is the best cream for acne marks in Pakistan. This cream is very effective in getting rid of acne scars, it smoothes the structure of them and makes them less noticeable.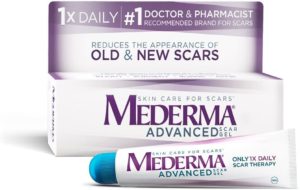 Apply only a thin layer of Mederma® Advanced Scar Gel on the face at night, gently massage it into the scar until there is no shiny, wet, or sticky feeling left. If you want to go for Mederma for removing acne scars feel free to consult your skin expert first. You can see the visible result after about 4 weeks of daily usage, with optimum improvement in 8 weeks.
Clean & Clear Advantage Mark Treatment:
Clean & Clear advance mark treatment is the best acne marks removal creams in Pakistan. Clean & Clear advance mark treatment cream is an excellent formula for the acne scars. It is also useful for all types of skin as it contains the salicylic acid instead of benzoyl peroxide, so it works better on blackheads and pimples. A unique combination of salicylic acid and glycolic acid helps to remove acne marks and post-acne scars. It comes with non-greasy formula and also with the clinically proven acne medicine can then penetrate pores.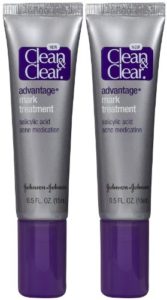 Its regular use improves elasticity and removes post-acne marks. For getting better results clean your skin properly and apply the Clean & Clear advance mark treatment cream on the face twice daily.
Kate Somerville D-Scar Diminishing Serum:
Kate Somerville D-Scar Diminishing Serum is the best cream for acne marks in Pakistan. You can take Kate Somerville D-Scar Diminishing Serum removes the acne scars and improves skin complexion. It suits all skin types and 100% of scar treatment users had a significantly improved scar texture and smoothness.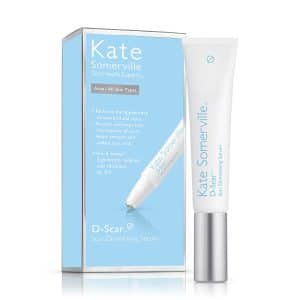 Kate Somerville D-Scar Diminishing Serum flattens and improves the appearance of both new and old scars for smoother, softer skin. It's easy to apply, non-allergenic scar treatment dries quickly and invisibly. It removes 100% acne scars within 8 weeks as 92% of users had decreased scar thickness.
Dermonu Pigmentation and Acne Scar Removal Cream:
Dermonu Pigmentation and Acne Scar Removal Cream from Spain and is also available for acne scar removal cream in Pakistan. It fades away all the skin imperfections including acne scars, birthmarks, pigmentation, discoloration and dark spots.  Dermonu Pigmentation and Acne Scar Removal Cream is the unique combination of Regenerum with Tea Tree essential oil and salicylic acid to prevent acne scar and pigmentation.
It is the best cream for acne marks in Pakistan that penetrates deep, removing the dead skin cells to reveal healthy new skin underneath.
Apply a thin layer after washing the face at night. Dermonu Pigmentation and Acne Scar Removal Cream start to show results within 6 weeks or regular use.
Kojic Cream:
Kojic cream is also one of the best-medicated creams for acne marks in Pakistan. There are almost no side effects of the Kojic Cream as it's the combination of Japanese Mushrooms, Arbutin or Licorice Root Extracts. It is also used to lighten the skin. It may be used to treat skin conditions, such as sun damage, scars, and age spots.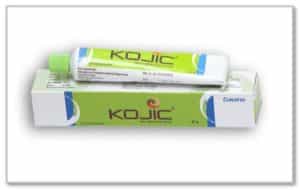 it does not only remove acne scars but also eliminates pigmentation, freckles, skin imperfections, dark and age spots. For better results wash your face properly pet dry and apply a thin layer on the affected area, massage gently until properly absorb into the skin.
Note:
Must consult with the doctor first before choosing any of the acne scar removal creams.
For external use only.
When using any of the above-mentioned products skin irritation and dryness is more likely to occur if you use another topical acne medication at the same time.
Rinse right away with water if it enters in eyes.
For best results use at night.
Best Treatment For Acne Scars, Wrinkles and Dark Spots of Skin
Best Treatment For Acne Scars and Dark Spots of Skin. Everybody desires their skin to appear attractive which is why they spend lots of money on costly products and treatments that can sometimes be useless.
Instead of going for expensive acne marks removal creams and treatments, you can go for some effective natural home remedies which will keep your skin healthy and make it radiance.
Today you will find here the amazing home remedies for the treatment of Acne Scars, Wrinkles and dark spots. This home remedy will eliminate dark spots, wrinkles, acne scars and pimples from your face and make your skin look better than ever.
The key ingredient of this homemade mask is honey that has many health benefits.
This amazing homemade mask can deal with acne scars, blackheads and blemishes on your face within a few days of use.
Ingredients
Organic honey 1 spoon
Lemon juice 1 spoon
Ground nutmeg 1 spoon
Cinnamon powder 1 spoon
Preparation and Use:
Mix all the above-mentioned ingredients in a bowl until you get a paste and add more honey if your skin is sensitive. Wash your face properly before applying the mask. Now apply the mask on your face and leave it to work for 10 minutes. Wash it away with cold water after 10 minutes. It may cause a burning sensation but don't worry its herbal mask and the regular use of it is the best treatment of Acne Scars, Wrinkles and Dark Spots of Skin.
DARK SPOTS TREATMENT
Dark spots on the skin make you look ugly and unattractive. If you have a dark spot on your face, you are definitely searching for how to get rid of dark spots of the skin by using home remedies. Dark spots occur on the skin due to excessive melanin production, too much exposure to the sun, hormonal imbalance and acne (which leaves behind dark spots and scars).
If you are facing dark spots on the skin you need not to worry now because by practicing on the below-mentioned tips you can get flawless and radiant skin. Moreover, you need not to pay for getting spotless skin because all the ingredients are available in the cabinets of your kitchen.
Buttermilk and tomato juice mask:
You required a tablespoon of buttermilk and one tablespoon of tomato juice. Mix them well and apply the paste on the skin for 20 minutes then rinse with water.
This buttermilk and tomato juice mask will help you to eliminate dark spots of the skin within 2 weeks of regular use. Buttermilk contains the properties of Lemon but it does not offer burning sensation.
Red Sandalwood and almond mask for dark spots:
Sandal wood and almond powder work surprisingly on the skin.  It makes it smooth, soft and flawless. You required one tablespoon of almond powder, one tablespoon of red sandalwood powered and one tablespoon of honey.
Mix them well to make a thick paste. Now apply this face pack for 30 minutes then rub gently with wet hands for 5 minutes and then wash away with water. Regular use will show you desire results and your skin starts restoring back its beauty.
DAILY HEALTHY DIET IS ESSENTIAL
The most important thing for getting rid of dark spots is also your daily diet. Keep an eye on your daily diet and make it sure it contains essential vitamin and nutrition vital for your beauty. Consume lots of water and use organic fruits and vegetables.
You can follow us on Twitter, add and like us to your circle on Facebook page, keep yourself updated on Linkedin and Instagram. You can also subscribe to our email newsletter to get daily alerts from Technology, Entertainment, Sports, Gadgets, Latest Government Jobs, Cooking Recipes, Health and Beauty, Autos and Vehicles and Much More.