Best blackheads removal products in Pakistan. A complete guide of getting rid blackheads easily at home.
Blackhead removal guide
What are blackheads and why they appear?
Causes of blackheads                
How can you remove blackheads?
Best blackhead removal products
In this article, you will find about how to remove blackheads in just a short period of time. If you are dealing with the blackheads issue you are at the right place because it's not an easy task to get rid of them simply because you need to do regularly take care of your skin with the blackheads removal products in Pakistan and other countries.
If you want to permanently get rid of blackheads, first of all, you need to know the problem and then a solution to how to remove them.
Todaywe will first discuss what actually blackheads are and what causes them to appear?
Blackheads are tinny bumps that come on to your skin due to the clogged hair follicles. The surface area of these bumps looks dark and black that is why these are called blackheads. These are a type of acne that usually targets the nose and other parts of the face but you can also see them on the other parts of the body as well.
Whatcauses blackheads?
Blackheads form due to clogged hair follicles on your skin because each of the follicles covers one hair and a sebaceous gland that produces oil and these oil glands get dirt, dead skin cells and become a bump. If the bump remains cover it is called whitehead and when the bump opens it catches dust and appears back and called blackheads.
Blackheads are also a type of acne but non-inflammatory. These can become inflammatory when bacteria and the mixture of sebum and dead skin meet with them and they become the painful pimples and if you don't care them right away they leave behind the nasty acne scars that make you look ugly. If your skin is prone to blackheads and pimples you need to do proper skincare routine in order to fight with them.
Not only hair follicles and sebum contribute to clogging the pores there are other factors too that increase the chance of developing blackheads on the face.
People with oily skin are more apt to develop blackheads on the face because it becomes tough for the pores to expel the oils.
Twisted hair follicles with broken facing become clogged easily and your skin starts developing the blackhead on the same spot, again and again, such as you can see on the nose.
Lack of skincare routine and not proper cleansing and exfoliation of the skin leads to develop clogged pores that is why you start seeing pimples and blackheads.
Our inheritances might regulate the susceptibility of our pores to become blocked, whereas hormones can affect the oil production on the skin with the androgens being unsympathetic for the rapid oil production in the skin.
Hormonal disturbance also increase the chances of developing the pimples and blackheads
Stress and anxiety also lead to excessive oil production in the skin resulting in severe kind of acne.
Poor diet may also lead to the appearance of pimples and blackheads.
Howcan you remove blackheads?
You can get rid of blackheads with the continuous and gentle skincare routine but that severe kind of blackheads more upsetting plugs, may require extraction.
On the other hand, the elimination of whiteheads is very easy as compare to blackheads. Whiteheads are pores that become clogged with the same mixture of sebum and dead skin, but the clog happens deeper in the pore that is why you don't see any kind of redness and inflammation.
You will find here home remedies to get rid of blackheads easily at home without any pain but in addition to these methods it is very much essential to prevent them from appearing and for this purpose, you need to do regular skincare with the good quality skincare products.
You can permanently remove blackheads if you take care of your skin regularly.
Here is some of the amazing home remedies that you can apply for getting rid of blackheads permanently.
1. You need to have a tablespoon of cornstarch and mix it in applecider vinegar to make a thick paste. Now apply this thick paste on the areawhich is problematic and leave the paste for almost 20 minutes. Wash it offwith warm water and then rub ice cube for few minutes in order to close thepores. For the best results use this two-three times a week.
2. Honey is onthe other hand is an effective remedy to have the smooth and clean skin. Youjust need to apply raw honey on the face for 20 minutes and later on wash withlukewarm water. You can use this recipe almost on daily basis for having theproblem free skin.
3. You need to have 2 tablespoon of egg white and a tea spoon of honey.Mix them well and apply on the face to get rid of blackheads. You can leave themixture on the face until it get dry and wash it off with warm water. Thisrecipe is amazing to remove blackheads and having a glowing skin.
4. You can also apply lemon juice with the cotton ball before going to bed on theblackhead area. Lemon juice is a natural astringent that remove dead skin celland helps to remove the dirt. You can leave the lemon juice overnight on yourface and also can wash it off after 15 minutes it's totally up to you. Butafter washing the face apply a good quality moisturizer.
If you have dry skin you need to apply lemon juice witholive oil because lemon juice can make your skin dryer. This tips is not forthe people with the sensitive skin.
5. You can also apply baking soda mixing with the water. Apply this solution on the faceand gently rub in circular motion for few minutes and then rinse off withlukewarm water. This method helps get rid of blackheads as well as prominentsebaceous filaments, and it also temporarily tightens the pores. Don't usebaking soda if you have sensitive skin.
6. You need to have the salicylic acid toner or cleaner. Apply it on the face with the helpof cotton ball and let it stay there for almost 20 minutes.
7. You can also apply a clay masks like bentonite clay, and fuller earth clay masks. Clay masks help to remove all the impuritiesand makes you skin smooth and supple.
8. Tomato, on the other hand, is an amazing remedy to get rid of blackheads in few day. It has natural antibacterial properties that dry up blackheads. Its lycopene works deeply and helps to restore the damaged skin. Just mashed tomato and apply it over the blackheads before going to bed. Leave it overnight and then wash it with clean water in the morning.
9. You can also use the blackhead extractor on the big ones. You don't need to dig into yourskin with the extractor just place the ring over the blackhead, and apply thesmallest amount of pressure in this way the plug will come out. Wipe it awaywith the cotton pad and apply petroleum jelly over the area. But before usingthe blackhead extractor you need to make the problematic area soft with thehelp of mild cleanser. Just apply the cleanser on the face rub it gently andwash it with lukewarm water.
10. For blackhead extractions you can visit the Dermatologist because they knew wellabout how to treat them and with the extractions he/she use acid peel ormicrodermabrasion in order to thoroughly exfoliate the skin and let theblackheads to come out more easily.
Blackheadsprevention skincare routine:
If you want to get rid of blackheads permanently you need to follow the proper skin care routine. In this way you not only get the flawless skin but also see the complexion becoming improve.
You need to do proper care on daily basis otherwiseblackheads may return and make you look ugly. A gentle skincare routine that comprisesconsistent exfoliation, cleansing, moisturization.
For preventingblackheads you need to follow these steps:
1.Cleansing
Cleansing is very much essential on every single night in order to remove all types of dirt and impurities on the skin. Because if you sleep without cleansing your skin all the impurities on the skin work to bring pimples, acne and blackheads.
Always use gently cleanser with salicylic acid or benzoyl peroxide, low-pH level and without sulfate.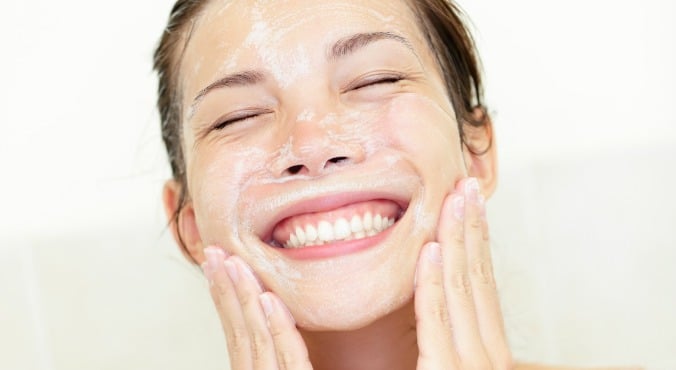 2.Exfoliation
After the cleansing you need a chemical exfoliant like a mild peel or toner or serum. The salicylic acid oriented exfoliant is the best one for blackheads because it can penetrate layers of oil and exfoliate within the pore. You can also use the other products containing glycolic acid or lactic acid.
Keep in mind to use the chemical exfoliant, at least afew times a week and also be aware with the use of exfoliants because the makeyour skin more sensitive to sun exposure, so keep using good quality sunscreen.
3.Moisturization
Last but not least after finishing cleansing and exfoliating use a good quality moisturizer to keep your skin hydrated. When the skin is dry, dead skin cell build-up becomes more problematic, while the skin itself becomes conceded and more liable to clogging.
So to moisturize the skin is more important to keep it healthy.
4.Retinoid
For more stubborn blackheads, go with a retinoid cream or solution. Be aware that retinoid can make your skin more prone to harm from the sun, so always pair it with a good quality SPF.
Dos& don'ts for blackhead removal:
Don't squeeze your pimples or blackheads. If you want to get rid of blackhead gently massage the skin with the massage cream and after that use the extractor tool around the blackhead and put slow pressure to remove the plug. Otherwise squeezing the pimples or blackheads with the fingertips causes inflation and redness and makes your skin look uglier.
Avoid forceful cleaning and rubbing of the skin
Avoid very hot or very cold water when washing your face.
Avoid the use of strong type of toners, exfoliants, astringents, soaps, and scrubs.
Always use sunscreen to avoid sunburn or tanning
Always use the pores cleaning skincare products
Always remove all make-up before going to bed.
Switch to the oil-free skincare products, including sunscreen.
Keep your skincare tools and extractor clean and germ-free. Before using those on the skin make it sure to clean them and after use clean them as well.
So, readers, this is the blackheads removal guide, it has tried to outline all of the best ways to fro blackheads removal along with the best blackheads removal products for prevention.
We have selected the best blackheads removal products to help you keep your skin clear. You can easily purchase these blackhead removal products by doing online shopping.
African Botanics Marula Mineral Cleansing Mask
Goodal Washup Deep Clean Pore Glacial Clay Mask
Differin Acne Treatment Gel
Osmosis Beauty Purify – Enzyme Cleanser
Drunk Elephant T.L.C. Framboos Glycolic Resurfacing Night Serum
Clinique Blackhead Solutions 7 Day Deep Pore Cleanse & Scrub
Lancer The Method: Nourish Blemish Control
Origins Clear Improvement Active Charcoal Mask to Clear Pores
Philosophy Purity Made Simple Pore Extractor Mask
Shiseido Perfect Cleansing Oil
CosRx BHA Blackhead Power Liquid
Sunday Riley U.F.O. Ultra-Clarifying Face Oil
SkinCeuticals Retinol 0.5 Refining Night Cream
Kiehl's Since 1851 Rare Earth Deep Pore Cleansing Masque
Kate Somerville 'EradiKate' Mask Foam-Activated Acne Treatment
Dr. Dennis Gross Clarifying Colloidal Sulfur Mask
Paula's Choice Skin Perfecting 2% BHA Liquid Exfoliant
The Ordinary Azelaic Acid Suspension 10%
Aveda outer peace Acne Relief Pads
Dermalogica Daily Microfoliant Exfoliator
Peter Thomas Roth AHA/ BHA Acne Clearing Gel
First Aid Beauty Skin Rescue Deep Cleanser with Red Clay
By Terry Cellularose Cleansing Oil
Fresh Umbrian Clay Pore Purifying Face Mask
Eminence Organic Skin Care Clear Skin Probiotic Cleanser
Farmacy Green Clean Makeup Removing Cleansing Balm
AfricanBotanics Marula Mineral Cleansing Mask
Do you have dry and sensitive skin then this African Botanics Marula Mineral Cleansing Mask is the best product for you? This mask is gentle on the sensitive skin helps absorb impurities yet offers smooth skin thanks to its clarifying kaolin clay. It also contains the antioxidant-rich oils from plants like marula and avocado, along with antioxidant-rich plant extracts to keep the skin hydrated and moisturized. It also contains lots of essential oil if you're sensitive to fragrances, do be aware that.
GoodalWashup Deep Clean Pore Glacial Clay Mask
Made with the super absorbent clays like kaolin andmontmorillonite, butylene glycol and green tea extract. This is the coolingmask for having the clean pores and hydrated skin. This mask works for all skintypes, but as it has ferments it possibly won't work for those with fungal acne.It comes with a spatula that makes getting it out of the tub a more hygienicprocess.
DifferinAcne Treatment Gel
This is a medicated gel that contains adapalene and retinoidto have the flawless skin. Its ingredients helps to bring the skin rejuvenationby regulating the skin cells growth. It's not an exfoliating formula but the adapalenein the gel helps to remove the blackheads by unclogging the clogged pores. Anumber of people around the world finding this product helpful to prevent acneand blackheads. It not only treats them but also prevent the further growth. Theother advantage is that it contains retinoid which is anti-aging property, andis able to support longstanding collagen creation in the skin.
This is little bit harsh so start with the small quantityand apply it on the problematic area.
OsmosisBeauty Purify – Enzyme Cleanser
It's a mild cleanser that you can use on a daily basis to remove all the impurities and oil from the skin. It is sulfate-free with a low pH, so it won't dry out but remove all the sebum. It comprises fruit enzymes, which may increase skin exfoliation and softness, but more significantly, it is gentle and refreshing. Ideal for all the skin types Osmosis Beauty Purify – Enzyme Cleanser is one of the best blackheads removal products for daily use.
DrunkElephant T.L.C. Framboos Glycolic Resurfacing Night Serum
This stunning instant treatment is actually a chemicalexfoliant that helps to remove all the dead skin cells by cleaning the cloggedpores and also guarantees the blackheads removal in short period of time.
This product also contains salicylic acid and glycolicacid which are the striking ingredients to remove the excessive oil and sebumand to achieve the clear skin. Drunk Elephant T.L.C. Framboos GlycolicResurfacing Night Serum is a unique formula also with hyaluronic acid and raspberryextract to make your skin nourished and problem free.
This is one of the best blackheads removal products that is suitable for the all skin types and ideal to have the desired results if you apply it regularly at night.
CliniqueBlackhead Solutions 7 Day Deep Pore Cleanse & Scrub
This skin care product by Clinique is little bit harshbut it works in wonder in removing the blackheads and cleaning clogged pores.Made with the kaolin clay and silicate that absorb all the impurities on theskin makes the pores clean and helps to remove all the dead skin cells.
It works as a mild scrub in cleaning the skin by gettingplugged up with dead skin cells and keratin. You can use this scrub few times aweek otherwise you can hurt your skin. Clinique Blackhead Solutions 7 Day DeepPore Cleanse & Scrub is ideal product for the skin care regime for thepeople with oily skin.
LancerThe Method: Nourish Blemish Control
Want to unclogged pore you must need to give a try to theLancer The Method: Nourish Blemish Control because its an ideal formula tonourish the pores. Its ingredients are really amazing to gently unclog poresand prevent acne. Made with the low level of salicylic acid and tea tree oilthis cream gently exfoliate and stop the formation of bacteria that causes acneand blackheads
OriginsClear Improvement Active Charcoal Mask to Clear Pores
This mild mud mask is also the best blackheads removal products .It is a perfect daily treatment for keeping blocked pores clean and clear. It is the perfect skin care product for cleaning the blackheads. It comprises both kaolin and bentonite clays, as well as charcoal, all these ingredients work like the vacuum cleaner to extract all the impurities form the skin.
PhilosophyPurity Made Simple Pore Extractor Mask
It's a stunning mud mask for removing the blackheadseasily. It's a unique blend of kaolin clay and diatomaceous earth, which workslike a vacuum to soak all the impurities and lets you have the clearer skininstantly. This mask also contains salicylic acid to indorse skin regenerationand to exfoliate inside the pores. It must work for all skin types, butparticularly for those with greasy skin.
This mask is also amazing in other way as to remove itvery easy as compere to other clay masks.
ShiseidoPerfect Cleansing Oil
The cleansing oil is also one of the best blackheads removal products. It's an ideal choice to remove the blackheads easily because when you apply it on the face and massage it works in wonder by melting the blackheads to lose the roots and come out easily without any pain and inflammation which you see when you use extractor or try to pop. With just vigorous massage of the Shiseido Perfect Cleansing Oil you can completely get rid of blackheads by easily cleansing them.
This oil is made with non-comedogenic mineral oil andhydrating glycerin. It has certain surfactants in it, so it will simply workwith water.
CosRxBHA Blackhead Power Liquid
You are fully aware of the performance and effectiveness of the Korean skincare products. This CosRx BHA Blackhead Power Liquid Korean toner is one of the best blackheads removal products. It is an incredible product for the blackhead removal method. It is made with betaine salicylate, a mild form of salicylic acid, in addition to soothing willow bark extract and oil-regulating and antioxidant niacinamide. It the best choice for the people with the oily and pimply skin for daily cleaning the clogged pores.
SundayRiley U.F.O. Ultra-Clarifying Face Oil
This is the dazzling face oil ideal for getting rid of the acne, pimples, and blackheads easily. You can not only get rid of them but also the regular use of this product prevents further breakouts. Made with the salicylic acid, neem and tea tree oil it helps to keep the pores clear, moisturizes the skin, decreases inflammation, and helps keep keratin soft so that it doesn't get fixed in the pores. Now forgot about the oily, pimply and acne oriented skin and start using the Sunday Riley U.F.O. Ultra-Clarifying Face Oil to gently remove all the impurities of the skin.
SkinCeuticalsRetinol 0.5 Refining Night Cream
The best thing about this skincare product is that itcontains the retinoid that are exceptional for the skin. The use of the retinoidhelps to remove all the skin problems including blackheads and also adds a newlife to the skin by increasing the growth of new skin cells. Furthermore, thisproduct not only heals and dislodges present clogging, but also improve skintexture in a way that averts future breakouts.
This is a night cream that contains the Retinol 0.5 withthe combination of soothing complex bisabolol that works whole night on theskin and in the mooring you see the amazing skin without any inflation or irritation.
Kiehl'sSince 1851 Rare Earth Deep Pore Cleansing Masque
If you are having the excessive oily skin then this maskis ideal for you, though it has intense properties but it removes all theimpurities existing on the oily skin. It includes both kaolin and bentonite to pourall of the grease from your clogged hair follicles.
Other ingriendts of this mask are the oat flour and aloeVera that offer the soothing sensation and prevent irritation. It inclusion of MCToil prevents excessive dryness from the mask.
KateSomerville 'EradiKate' Mask Foam-Activated Acne Treatment
A unique combination of the salicylic acid and clay this mask foam is ideal to regulate the lackluster skin. It's foaming works in wonder with the sulfur and become active against the bacteria present on the skin and also slough away build-up of keratin. It actually revives the skin and stiffens the pores, to benefit prevent future blackheads. This product is suitable for all skin types and is one of the best blackheads removal products.
Dr.Dennis Gross Clarifying Colloidal Sulfur Mask
It's another sulfur-based skincare product that helps to remove the clogged material in the pores and resist against bacteria in order to prevent the formation of the further blackheads. Sulfur is keratolytic and anti-fungal, that is why it helps in clearing the clogged pores and also deals with the fungal acne. other ingredients of this masks are the kaolin clay and soothing willow bark extract that soak up all the impurities and offers irritated free skin. This product is a bit intense but is one of the best blackheads removal products. You can use this once a week. It is ideal for the combination or dry skin as well.
Paula'sChoice Skin Perfecting 2% BHA Liquid Exfoliant
It's another one of the best best blackheads removal products. Its astonishing skin toner for exfoliating and blackheads removal. It contains 2% salicylic acid at the perfect pH for breaking down blocking inside the pore. It would not irritate the dry the skin as it also contains the green tea extract and hydrating butylene glycol for the soothing effects. You can use this toner twice a day because it's a mild toner and suitable for all skin types.
TheOrdinary Azelaic Acid Suspension 10%
If you have the extremely sensitive skin then thisproduct is best for you. This product is free for the salicylic acid or retinoland contains the azelaic acid, which is another ingredients to get rid ofblackheads easily. Just like the salicylic acid, this treatment is alsokeratolytic so it aids to remove and exfoliate dead skin mass. Though, theother advantage is that it is perfect for taking down inflammation and avoidingthe extent of acne bacteria. Its use would not irritate or dry out the skin andworks for any skin type. You can use this skincare product at night because ofits thick consistency.
Avedaouter peace Acne Relief Pads
You can also use the pads soaked in salicylic acid. Thesepads are best for the skin exfoliation and long terms blackheads removal. Thesepads also include betaine and tamanu oil that helped the over dryness of theskin by gently removing the dirt into the clogged pores. These Aveda outerpeace Acne Relief Pads are perfect for the people with the oily skin. They are preparedwith Aveda's pure-fume fragrance combination, which has an elegant aroma and trivialantibacterial properties to stop those blackheads from turning into acne.
DermalogicaDaily Microfoliant Exfoliator
It's a gentle exfoliant that doesnot irritate the skinand helps to prevent the further blackheads and breakouts. You can use it onceor twice a week in order to remove the hard resistance of blackheads by doingscrub. It also contains tea tree oil which is an anti-bacterial ingredient thatkeeps the pimples away from developing. Suitable for all skin types DermalogicaDaily Microfoliant Exfoliator is best for hard blackheads removal.
PeterThomas Roth AHA/ BHA Acne Clearing Gel
It is another chemical oriented exfoliant gel with thecombination of % salicylic acid and 10%glycolic acid that works in wonder in removing the dead skin cells completelyand offers the smooth and fresh looking skin.It also helps to get rid of hardblackheads easily and also lighten the acne scars.
It's a honestly strong prescription that should be used sensiblybut you can also suppose rapid results when you use it.
It also has several outstanding skin-brightening componentssuch as licorice root extract and retinyl palmitate. This product is suitablefor all skin types. After using this product keep your skin moisturized.
FirstAid Beauty Skin Rescue Deep Cleanser with Red Clay
This is the best and ideal daily to use cleansers forblackhead avoidance. It preserves the skin at a vigorous pH level although eliminatingoil formulation and avoiding clogging of pores. It includes just a touch of redclay to rivet impurities.
This product is free from all types of hard surfactants.It is best for those with oily and combination skin and can work only or as an additionalcleanser.
ByTerry Cellularose Cleansing Oil
This oil is amazing for the pore-decongesting massage. Enrichedwith the wonderful rose aroma this oil contains non-comedogenic mineral oillike jojoba and squalane to moisturize and nourish the skin. It has some surfactantsin it that works better with water to come off easily. It is flawless for a doublecleanse habit, and is particularly useful in a pore-decongesting massage. Thisproduct is suitable for all skin types.
FreshUmbrian Clay Pore Purifying Face Mask
This is a new excellent clay mask for yawning cleaning the skin and eliminating blackheads. It is prepared with Umbrian clay, also recognized as fuller's earth, which works strikingly to eradicate froths from the skin and tighten up the pores. Fuller's earth is fairly strong, so other ingredients, like glycerin and butylene glycol, are also added in it to help deal its drying properties. It removes easily from the skin with the water when compared to other clay masks. It is one of the best blackheads removal products that comes in either a tube or a jar, it is better to prefer the tube over jar for ensuring everything is hygienic.
EminenceOrganic Skin Care Clear Skin Probiotic Cleanser
This is a gentle cleanser, suitable for the sensitiveskin types. It contains mild salicylic acid, as well as antibacterial tea treeoil that works better in removing the makeup and impurities without drying theskin. So if you are already using the retinoid you can combine them with thiscleansers for removing the blackheads and dirt. It is fabulous for daily usefor all skin types.
FarmacyGreen Clean Makeup Removing Cleansing Balm
It's a good quality blackhead removing facial massager and an oil cleanser. The Farmacy Green Clean Makeup Removing Cleansing Balm is the ideal choice for those who do not prefer to use the mineral oils in their daily routine. A touch of MCT oil and a variety of botanical oils this cleansing balm offers the incredibly soft and supple skin by making the impurities to melt so you can easily wipe them off.
It makes the skin soft and moisturized and is very easyto rinse off with water. It includes a touch of papaya extract to endorse akeratolytic effect. It will work for all skin types.
So, readers, these are some of the best blackheads removal products in Pakistan and other countries that are very much effective in removing them easily without having the inflammation or irritation. Removing hard type of blackhead once in a while is safe but don't make your habit of removing them always by yourself. If you have recurring blackheads, make an appointment with a dermatologist who can help you to address them properly.
For more information and skincare tips stay in touch with daytimes.pk
You can follow us on Twitter, add and like us to your circle on Facebook page, keep yourself updated on Linkedin and Instagram. You can also subscribe to our email newsletter to get daily alerts from Technology, Entertainment, Sports, Gadgets, Latest Government Jobs, Cooking Recipes, Health and Beauty, Autos and Vehicles and Much More.