EECP Therapy in Pakistan. Today here we talk about what is EECP therapy and for what purpose it is used. EECP stands for Enhanced External Counter Pulsation and it is actually a non-invasive treatment to lower the number and intensity of angina pectoris, by increasing coronary blood flow in areas of the heart that require blood flow.
In simple words, EECP Therapy is the alternative to bypass surgery. The "EECP Therapy treatment" is controlled through three pairs of external inflatable cuffs that are applied around the lower legs, upper legs, and buttocks.
This raises blood flow, eradicates the symptoms of ischemia, and reduces the need for anti-anginal medications in the majority of patients.
Does EECP Therapy Effective? 
A number of studies have shown that EECP therapy can be fairly useful in treating chronic stable angina.
However, several studies have suggested that the improvement in symptoms following a course of EECP therapy treatment appears to keep on for up to five years (although 1 in 5 patients may need another course of EECP to sustain their progress).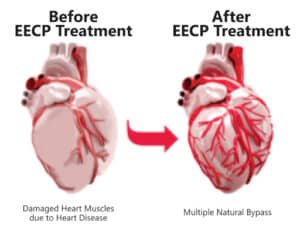 EECP Therapy in Pakistan
In Pakistan, people in their 30s were suffering from heart diseases. ECCP therapy treatment enhances blood circulation in the heart. This treatment usually helpful for the patients suffering from angina, it is also seen as an alternative to bypass surgery for patients suffering from congestive heart failure or coronary artery illness.
The Kidney Centre at Karachi and Shifa Hospital in Islamabad had introduced the EECP therapy in Pakistan.
EECP therapy in Pakistan is currently available in Shifa International Hospitals and Kidney Centre at Karachi.
You can follow us on Twitter, add and like us to your circle on Facebook page, keep yourself updated on Linkedin and Instagram for all the latest from Technology, Entertainment, Sports, Gadgets, Latest Government Jobs, Cooking Recipes, Health and Beauty, Autos and Vehicles and Much More.