HIFU Facelift Treatment in Pakistan for getting rid of aging problems including wrinkles, fine lines, and saggy skin.
Are you fed up with saggy skin and want to have younger-looking skin? HIFU is an ideal facelift treatment for wrinkle reduction, tightening sagging skin of neck, eyes, cheeks, eyebrows, and eyelids and also skin smoothening.
HIFU Facelift Treatment is the best treatment of your all your aging problems. The HIFU Treatment in Pakistan is a very effective treatment for full body tightening.
In this article below you will find out about the complete details of HIFU, its benefits, side effect, cost and also where to go for the treatment.
What is HIFU?
HIFU stands for High-intensity focused ultrasound is a comparatively new beauty treatment for skin tightening. It's a non-invasive and painless replacement for a facelift.
This treatment includes ultrasound energy to promote the production of collagen, which results in firmer and smoother skin.
HIFU treatment is most widely known for its use in treating tumors. It is also used to treat prostate cancer. Unlike radiation and surgery, HIFU is a non-invasive outpatient process that leaves healthy tissue undamaged.
After several trials, it has been found that HIFU is also a safe and effective treatment for facial lifting and refining wrinkles. Now it has become a new beauty treatment for skin tightening.
Which is the best treatment for skin tightening?
Having younger-looking skin is a dream of every girl, who considers her skin getting lackluster day by day. With the treatment of HIFU, you start getting firmer and tight Skin a few weeks after the treatment and your saggy skin, wrinkles, fine lines vanish completely.
This skin tightening treatment contains the strongest focused ultrasound energy that helps the skin tissues just below the surface. The ultrasound energy causes the tissue to heat up quickly.
Benefits of HIFU Treatment for Skin Tightening
Full facelift
Removes fine lines
Anti-aging and anti-wrinkles
Lifts saggy cheeks, eyelids, eyebrows
Enhancing jaw line definition
Makes your skin smooth and younger
HIFU Treatment Side Effects
If you are looking is there any side effect of HIFU Facelift treatment? You are right here. Apparently, the HIFU is a safe treatment. But there are few general side effects such as people may experience pain and discomfort right after the treatment.
HIFU for Full Body Lifts
HIFU treatment is also ideal for full-body lifts. Its energy is used to target the fat layers on the body and destroys fat cells. It is also considered an ideal treatment for body contouring, flat tummy, sharpening of arms and legs, bingo wings, and thighs and under the buttocks.
HIFU Before and After
HIFU Facelift treatment works effectively for saggy skin and it's a very effective technique for skin tightening, body tightening, and fat reduction.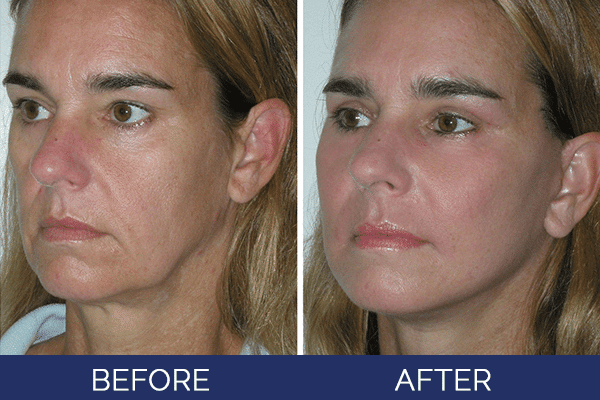 HIFU Procedure for Face
This facelift treatment takes usually 30 to 90 minutes. Doctors usually start the treatment after the face cleansing and then applying a gel. Doctors use a handheld device that releases the ultrasound waves in short bursts. People feel mild discomfort and pain after the treatment but it's temporary and goes on within few days.
Your doctor can also prescribe you medicines for pain relief. You can also resume your daily activities after receiving HIFU treatment.
HIFU treatment Session for Facelift
People who want to go for facelift treatment may need between one and six sessions, depending on the results they want to get.
Does HIFU Suitable for Everyone?
HIFU may not be suitable for everyone. Generally, this facelift treatment works better for people older than 30 years with mild to moderate skin sagging. On the other hand people with photo-damaged skin require several other treatments for achieving results.
Older people with too much saggy skin or skin laxity are not suitable for this treatment. HIFU treatment is also not for those with severe types of acne and damaged skin.
HIFU Treatment Cost in Pakistan
The HIFU Treatment cost in Pakistan depends on the doctor and as well as the total number of HIFU sessions.
Visit Renowned Cosmetologists for HIFU Treatment in Pakistan
There are well-qualified Dermatologists and Cosmetologists, who are providing HIFU FaceLift Treatment in Pakistan. HIFU is the most effective skin tightening treatment in Pakistan to combat early signs of aging.
The Bottom Line:
If you're looking for a secure, rapid, non-invasive treatment for face-lifting and skin tightening, HIFU is the best option as compared to laser and surgeries and fillers.
HIFU Treatment is not for everyone, so make sure you get a consultation from the right dermatologist or cosmetologist before going through this procedure.