PTA tells the users how to protect the WhatsApp account from hijacking?
Ifyou are a WhatsApp users and worried about its security? You are at a rightplace today we will tell you the way by following it you can protect yourWhatsApp account from hijacking.
Cyber Crime Wing of the Federal Investigation Department (FIA) has told that a number of incident of WhatsApp account hijacking have been reported in the last few months.
Therefore the Pakistan Telecommunication Authority (PTA) in order to tackle the issue has issued a simple procedure by following the users of WhatsApp can protect their account from hijacking.  
How to protectWhatsApp account?
Allthe users just need to activate the WhatsApp Two-Step Verification in order toavoid hijacking. If you are using this popular messaging and callingapplication you need to follow four (04) simple steps for the protection / verificationof your WhatsApp Accounts.
Here's is how to enableWhatsApp Two-Step Verification:
First Step:
OpenWhatsApp and Click on the 3 dots located at the upper right corner
ThenOpen > Settings
Clickon > Account
ThenSelect > Two-Step Verification Option
Click > Enable
Final Step:
Enter 6-digits PIN Code > then Enter Recovery Email Address for future PIN Code recovery (in case, if you forget PIN Code)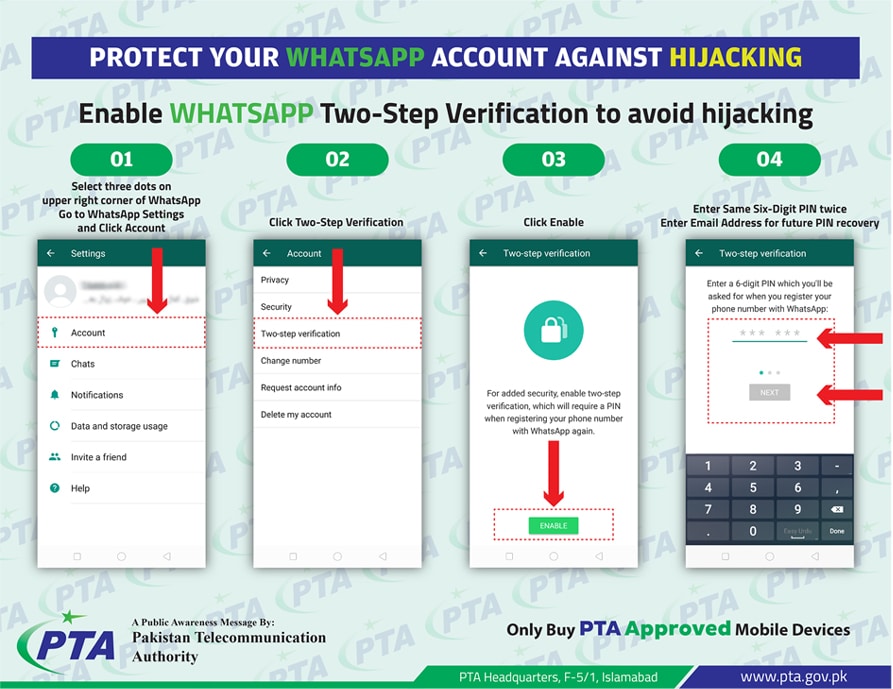 So readers these are the simple steps by following them you can protect your WhatsApp Account from hacking.
You can follow us on Twitter, add us to your circle on Google+ or like our Facebook page , keep yourself updated on Linkedin and Instagram for all the latest from Technology, Entertainment, Sports, Gadgets, Latest Government Jobs, Cooking Recipes, Health and Beauty, Autos and Vehicles and Much More.