Watch 50+ TV Channels, Live TV, Live Cricket and Sports, full-length movies, and dramas on your mobile With the Tamasha app package for Just Rs.10 PKR.
Mobilink Jazz has launched an outstanding Jazz TV App named 'Tamasha'. This is an outstanding application that lets the subscribers of Jazz Telecom enjoy 50+ live TV channels in Pakistan anytime and anywhere.
You heard right now: You can watch the live TV channel in Pakistan of your choice anytime, anywhere, with a Jazz Tamasha app package if you are a Jazz user. In this article, we will tell our readers the complete details on how to download Jazz Tamasha App and how to use its features.
This offer is also for Jazz+Warid users to enhance their media experience and enjoy music, sports, news, and live TV channels on a mobile phone.  Jazz customers never miss any movie, drama, show, and, most importantly, the live streaming of cricket matches with this new Jazz Tamasha app because this application has 50+ licensed channels in Pakistan.
Jazz Tamasha TV App Details
The Jazz Tamasha App lets customers watch over 50+ famous live TV channels, 400+ Titles & 5000+ Episodes from their mobile phones anytime, anywhere in Pakistan. Besides a jazz TV channel list and Hollywood movies, the telecom operator has also added live Radio Channels so that users of Jazz can also listen to their favorite radio programs on the go.
The Jazz Tamasha TV App is available for Android and iOS mobile phone users in Pakistan, and it is mainly designed for Jazz customers to enjoy entertainment wherever they need.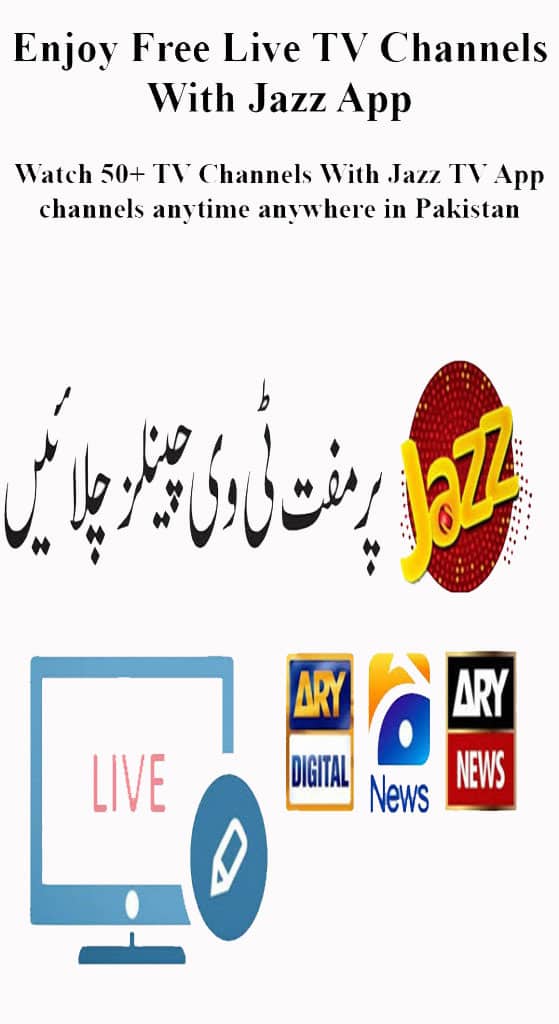 Here are some features of the Jazz Mobile Tamasha App :
Live Cricket, Football, and other exciting sports events
Latest full-length Pakistani movies, Hollywood movies and TV Series,
Regional dramas and Hollywood movies in your local language
Live local and regional news and entertainment TV channels
Kids' shows and Islamic channels
Reverse live TV for up to 7 days so you can recall your preferred sections from a show.
You can record and share your preferred content.
It includes a picture in picture mode, so you can scroll while watching your favorite program.
Onscreen controls for an enhanced experience, such as easy-to-maintain volume and brightness.
You can also listen to Live Radio Channels.
Jazz Mobile TV App Packages
Is the Tamasha app free on jazz? You must pay to get the Jazz Mobile TV on your mobile phone. You can enjoy the Live TV channels on your mobile phone with this application by subscribing to any of the below-mentioned Jazz Tamasha App Packages:
For Jazz+Warid Prepaid and Postpaid Users
Jazz Tamasha app package Daily: PKR 10 (Unlocks all channels with FUP, valid for 1 day )
Jazz Tamasha app package 3 Days: PKR 25 (Unlocks all channels with FUP, valid for 3 days)
Jazz Tamasha app package Weekly: PKR 50 (Unlocks all channels with FUP, valid for 7 days)
Jazz Tamasha app package Monthly: PKR 120 (Unlocks all channels with FUP, valid for 30 days)
You can unlock all channels and all content, free and exclusive, with FUP.
This offer is for prepaid and postpaid users and is auto-renewable.
To unsubscribe, open the Tamasha App and click unsubscribe from the 'Subscription Packages' section in the app.
Now Jazz & Warid prepaid users can watch premium content on the Tamasha App by subscribing to any of the Jazz prepaid internet bundles below.
Weekly Super Max
Monthly Super Duper
Monthly Max
Download Jazz TV App:
Terms & Conditions:
This application is only accessible to mobile phone users.
The Jazz 2G customers can avail of the services of this app, but the streaming will be affected.
For better services, the users need to use 4G services.
Both prepaid and postpaid users can avail of this app's services and subscribe to the Jazz Tamasha TV package.
The application is available for download for Android and iOS devices users.
Jazz Tasmasha App will also work on Android-based tablets with the Jazz 3G & WIFI networks.
All channels will be locked (a lock sign will appear on all channels for unsubscribed users).
You can call the Jazz helpline number or visit the official website for further details.