Leopards tracking in Pakistan. Leopards is one of the finest courier services in Pakistan. Leopards Courier has opened its branches all over the country and delivering as per their promise.
There are a number of courier services in Pakistan like TCS, DCS Courier, PCL, DHL, APX, Speedex, FedEx Express, Golden Pacific International but Leopards Couriers' popularity is base on different exceptional services because this company is also dealing with international courier services.
Leopards Courier has started its services in 1983, initially in five destinations, and now serving about 1036 destinations. The company has also started its courier services in Pakistan with nearly 700 + major hubs located throughout the country.
Presently Leopards Courier has over 1500 service locations couriers and thousands of express center employees. Now you can send your consignment nationwide in Pakistan and their network ensures that the dispatch reaches its destination the very next day.
Leopards Courier is offering a number of serrvices in Pakistan that are as follows:
Cash on Delivery (COD)
GiftsWifts
Efulfilment
Overnight Shipping Service
International Delivery
Leopards Tracking
Leopards Tracking helps the customers to track the status of their parcels across Pakistan and also worldwide. You can track your shipment and parcel with just a click with the Leopards Tracking system.
Below is the complete guide Leopards tracking through which you can track your Parcel In Pakistan
Leopards Tracking In Pakistan
The Leopards Courier Tracking is very easy and by the simple method, you can track your package through the online courier service. Clients can track their packages at Leopards Tracking in Pakistan through its registration number. If you want to send any gift national and international you need to book it with Leopards courier service. After booking a consignment, the representative issued a consignment or shipping Leopards tracking number. The Leopards tracking number is in fact also a Leopards 14- digit Courier Tracking number that tracks your package till your consignment shipped to your doorway.
Leopards Courier Helpline Numbers
If you want to track your shipment from the Leopards tracking system for the courier, you can use Leopards Courier helpline numbers as the customer service is there for you 24/7. For any inquiries, you can call Leopards helpline at 021 111 300 786 or approach our 24/7 active social media.
Online Leopards Tracking In Pakistan
if you are searching for Leopards Tracking in Pakistan you can also visit the Leopards Courier official website to track your shipment. After opening the Leopards Courier official website write your leopard courier tracking number and press the track button to track your shipment in Pakistan (image below).

Leopards Courier Zonal offices in Pakistan
You can also visit the Leopards Courier Zonal offices in your city for Leopards Courier Parcel Tracking In Pakistan. The Leopards Courier Zonal offices addresses and phone numbers are given below: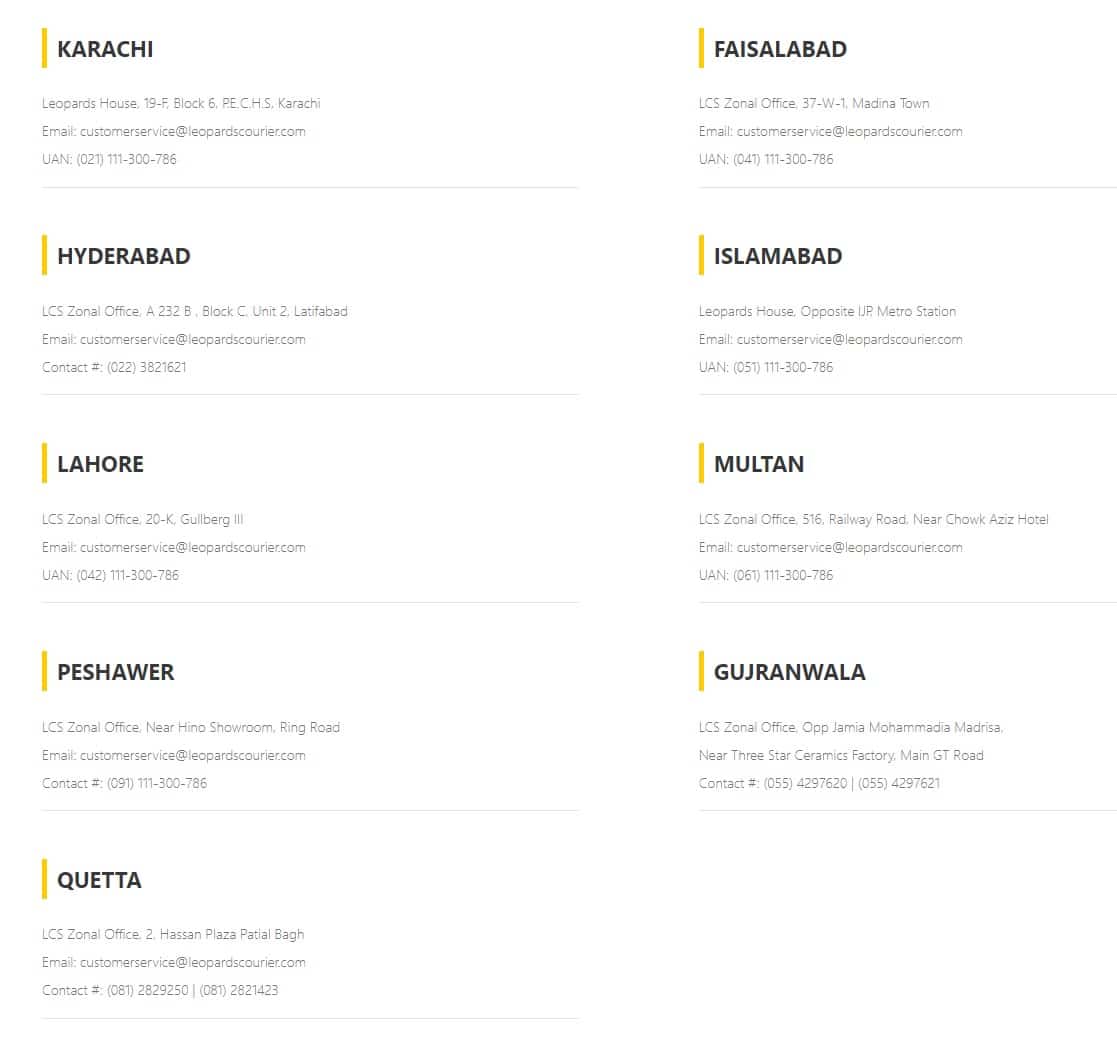 you can also have additional information regarding the Leopards Courier Tracking In Pakistan by visiting the official website.
For more updates stay in touch with daytimes.pk