Master Changan Motors Limited Unveils Luxurious Interior Upgrades for ChanganKarvaan MPV, Redefining Comfort and Elegance.
Master Changan Motors Limited, the leading Chinese domestic automobile brand in Pakistan, is pleased to announce the introduction of luxurious interior upgrades for its popular model, the Changan Karvaan MPV. This latest enhancement aims to provide an unmatched level of comfort and convenience to customers, further solidifying Changan's commitment to delivering high-quality vehicles at an attractive value point.
Since its establishment in 2018, Master Changan Motors Limited has consistently challenged the status quo and remained future forward. With close to 40,000 vehicles delivered to satisfied customers, the company's efforts have garnered global recognition. This year, during the Changan Global Partner Conference, the company was honored with accolades in Sales, After Sales, and Brand Excellence for the third consecutive year.
Changan has revolutionized Pakistan's automobile industry by offering the latest generation models with exquisite designs. With 28 dealerships across 18 cities, Changan has become the go-to choice for Pakistani consumers seeking solid build quality and best-in-class features. Prior to Changan's entry into the market, Pakistani consumers had limited choices of old-generation models with limited features. Changan's products have breathed new life into the industry, providing promising hope for the people of Pakistan.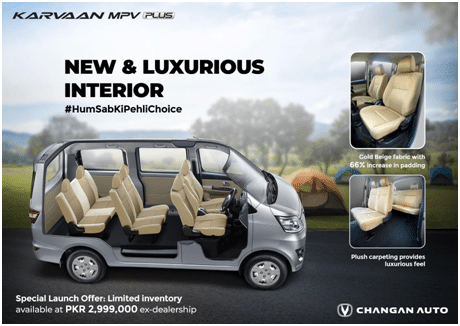 The latest addition to the ChanganKarvaan lineup is the Oshan X7, a cutting-edge vehicle that marks the first Right Hand Drive (RHD) premiere from Pakistan to the world. The vehicle has captured the hearts of car lovers, with 79 percent of Pakistanis expressing their admiration for the locally assembled ChanganKarvaan in a recent survey. Its unique features, modern design, and unmatched comfort have set a new benchmark in the industry.
ChanganKarvaan has already undergone three major upgrades within just five years, demonstrating the company's commitment to continuously improving its products and keeping customers delighted. In line with this commitment, the company is thrilled to announce the latest improvement in the Karvaan MPV – luxurious gold beige seats. The new seats boast a 66% increase in cushioning, along with four additional layers of springs and 16 extra retainers, all enveloped in a premium gold-beige fabric.
To further enhance the luxurious feel of the vehicle, ChanganKarvaan now features a revamped interior with a plush fabric carpet instead of PVC mats. The seats have been redesigned with a premium textured gold beige fabric, offering superior comfort during long journeys. Additionally, the cabin now boasts made-to-fit plush carpeting, which extends over the wheel arches, providing better sound insulation and a more refined aesthetic.
Despite these significant feature improvements and the ongoing rupee devaluation, ChanganKarvaan's price remains unchanged. The company is delighted to offer the new and improved version at the special launch price of PKR 2,999,999 (Ex dealership price), applicable to limited inventory on a first-come, first-served basis.
According to Mr. Danial Malik, CEO of Master Changan Motors,
"Our strategy is very well-thought-out. We want to bring multiple successful products across categories and keep on improving them at the same price point. We are committed to providing vehicles that are not only exceptional in quality but also accessible to the Pakistani consumer."
For more information about ChanganKarvaan and other Changan vehicles, please visit https://changan.com.pk/