National Savings Lucky Draw For Rs.2,000 Prize Bond. National Savings of Pakistan held the second lucky draw of the prize bond of Rs.25,000 in Sialkot today, on 11th September 2023.
As per the prize bond, the first lucky winner will receive prize money of Rs. 30,000,000, the second lucky prize of Rs. 10,000,000 will be given to three lucky winners and the third prize of Rs. Rs 300,000 will be given to 1696 winners.
The Prize Bond Rs.25,000 numbers of the lucky draw winner are as follows:
First Prize of Rs. 30,000,000/- 833264, 973683
Second Prize of Rs.10,000,000/- Each 009235, 149019, 507757, 698959, 835207,
The National Savings of Pakistan lucky draws will be made in Hyderabad for these prize bond series, which are Rs. 100, Rs. 200, Rs. 750, Rs. 1500 on 15th September, 2023.
For each value of the Prize Bond, lucky draws will be held, and this was the draw No. 11 balloting for Rs. 25,000 Bond. The third lucky draw will be held in twin cities (Rawalpindi).
Here is the complete list of Winners of National Savings Second Lucky Draw For Rs.25,000 Prize Bond;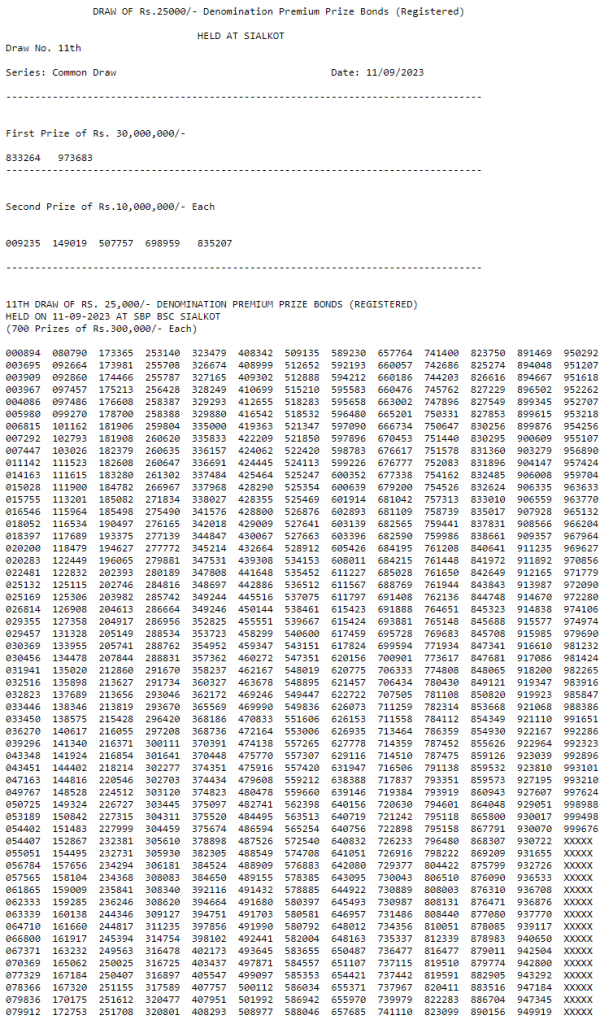 You can also visit the National Savings of Pakistan official website for prize bond lucky draw results.