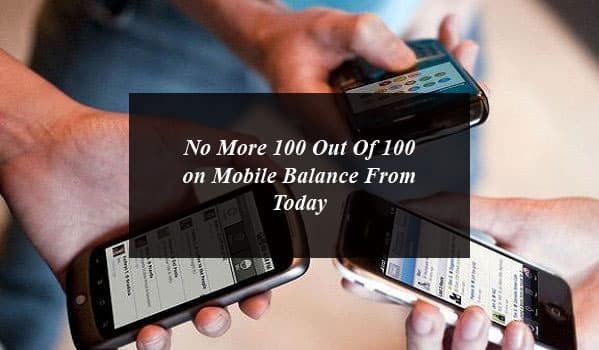 Mobile phone companies have again started to deduct the tax on mobile balance as they are now preparing to deduct 30% tax from the load of Rs. 100 Card.
The 30%tax on the mobile phone card has been approved. Media reports have revealedthat the companies has stopped giving 100 out of 100 mobile balance because thetax refund is back.
Thecabinet has approved the mini budget, which will take up to 30% tax on mobilephones. After that, users will receive a balance of Rs. 70 when loading a cardof 100 rupees.
The court had terminated the tax on the mobile phone and the users appreciated the Supreme Court's decision. So now the Chief Justice Mian Saqib Nisar is no more on his designation and new Justice Asif Saeed Khan Khosa become the new CJP.
It isimportant to mention that the supreme court of Pakistan has terminated the taxin June 2019 on the mobile card loads. A three-member bench headed by JusticeSaqib Nisar heard the case of self-notice against the tax deduction on mobilephone cards in the Supreme Court Lahore Registry.
SupremeCourt had maintained that taxes on telecom services should only be deductedfrom those who come within the tax net.
Afterwhich the Supreme Court suspended service charges for holding tax and exciseduty on mobile cards. During the hearing, Punjab said that by eliminatingservice charges Punjab has a loss of Rs 2 billion each month.
The courtsaid that it is not harm if you were taking the wrong tax. If a man loads a 100rupees card, why should the province be paid? Which service is giving thematter in case the charges are received? Advocate General Sindh said that aperson who has brought the bread from the oven would have to pay taxes on thebread. Advocate General Sindh said that one billion rupees are going on in amonth.
The courtsaid that the kickbacks you should finish will not be different from 1 billionrupees.
So from now there users will not get Rs.100 on the load of Rs.100 mobile card.
You can follow us on Twitter, add us to your circle on Google+ or like our Facebook page , keep yourself updated on Linkedin and Instagram for all the latest from Technology, Entertainment, Sports, Gadgets, Latest Government Jobs, Cooking Recipes, Health and Beauty, Autos and Vehicles and Much More