Everything about the Pakistan Banao Certificate Scheme, details, how to apply, profit rate, and who is eligible?
PrimeMinister Imran Khan inaugurated the Pakistan-Banao Certificate Scheme whichwill attract the overseas Pakistanis to invest in the economy of the countryand also to earn profit under the scheme in dollars.
PrimeMinister Imran Khan inaugurates Pakistan banao certificate scheme and those whoreceive certificates will get profit in dollars. According to details, PrimeMinister Imran Khan announced that those Pakistani interested to invest theirsaving it's a great opportunity for them to safely invest their savings withhigher profits rates than United States, Europe, Gulf countries while helpingbuild Pakistan.
Whiletalking to the inauguration ceremony of the Pakistan Banao Certificate Scheme PrimeMinister Imran Khan said that there was dire need to launch this kind of certificatescheme in the country. Overseas Pakistani have a great value of their countryand to build the Shaukat Khanum Hospital in Pakistani they are the one tocontribute first.
It is a ground-breaking ingenuity of Pakistan government to permit the Overseas Pakistanis to purchase the Certificates and their investments will not only drive Pakistan towards progress and prosperity but also they will be able to get profits from it, said the Finance Minister Asad Umar.
The PM just launched the #PakistanBanaoCertificates . A great opportunity for overseas Pakistani's to invest in a profitable certificate and participate in building a naya pakistan….yanee munafa aap ka mustaqbil Pakistan ka. Go to https://t.co/zvX5CDcrAq and check the details

— Asad Umar (@Asad_Umar) January 31, 2019
Pakistan Banao Certificate Scheme Details:
Those overseas Pakistanis having CNIC/NICOP or holders of POC having bank accounts are suitable to purchase the Pakistan Banao Certificates
They canmake the minimum investment is $5000 and any fundamental multiples US$ 1000 in additionalamount with no maximum limit.
Inverterswill get the profit in US dollars (with the elected account abroad or in PakRupees in Pakistan).
Earlyencashment in PKR can be done anytime deprived of tax or disadvantage.
Under thecertificate for 3 years plan the investors will be given 6.25 percent while the5 years plan would be 6.75 percent payable bi-annually.
How to apply for Pakistan Banao Certificate?
To applyfor the Pakistan Banao Certificate is very easy within few easy steps you canavail the certificate of your choice.
The investors first register themselves on the portal here.
After thesuccessful registration they need to provide details regarding their investmentand bank account.
The investorswill be given the certificates electronically on receipt of funds in State Bankof Pakistan Account given on the portal.
Theinvestor receives confirmation of the issuance of the certificates both throughemail and updation of their account on the portal.
The investors can view the status of their application by accessing the web-portal through their respective User ID and Password.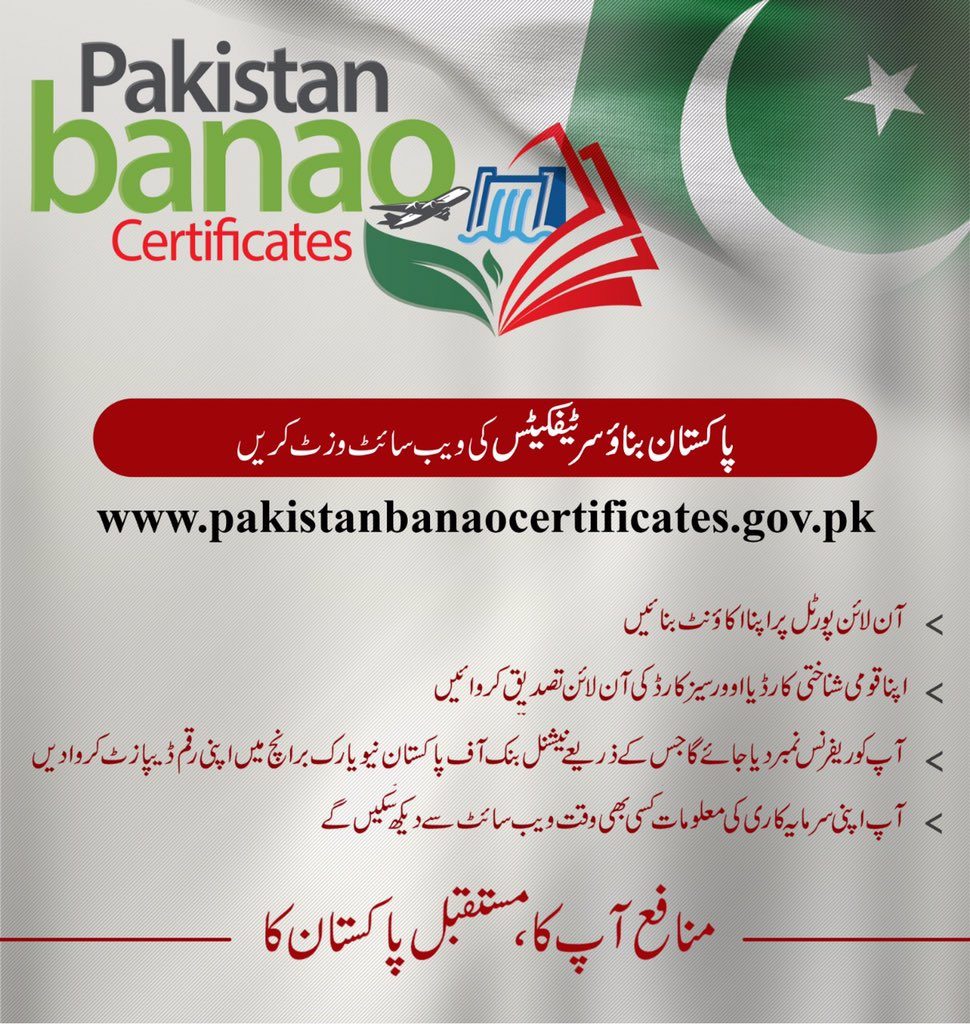 For more information you can comment below:
You can follow us on Twitter, add us to your circle on Google+ or like our Facebook page , keep yourself updated on Linkedin and Instagram for all the latest from Technology, Entertainment, Sports, Gadgets, Latest Government Jobs, Cooking Recipes, Health and Beauty, Autos and Vehicles and Much More.