Step By Step Guide For Pakistan Railway Online Booking and Ticket Reservation System
Pakistan Railways Online Booking Reservation System—Step By Step Guide. The Ministry of Railways has introduced the E-Ticketing system for the ease of Pakistan Railways passengers. It means there is no need to stand in long queues at railway stations or book offices for hours to book a train ticket. Now passengers can make online railway bookings with Pakrail and reserve their seats via E-Ticketing online booking reservation system right from their homes.
The Pakistan Railways E-Ticketing online booking reservation system had introduced by the Ex-Federal Railway Minister Khawaja Saad Rafique many years ago and lets you nook your train tickets online.
How to utilize Pakistan Railways E-Ticketing Online Booking Reservation System?
By visiting www.pakrail.gov.pk passengers can make online bookings of train tickets with an e-ticketing system anytime right from their homes. You can also download the Pakistan Railways application on your mobile phone for online ticket booking of Railway Pakistan easily.
You can easily make online railway bookings through the app by following the below-mentioned procedure:
1. log in to existing website users
2. Search for train and book tickets
3. View & book seats from the intelligent seat plan
4. Pay via Credit/Debit Card/ UBL Omini Shops/ Mobile Account
Payment Method for Pakistan Railways E-Ticketing
Once you book your ticket successfully, you can payments through UBL Omni, UBL Mobile Account, Jazz Cash, and Easypaisa also through a credit/debit card. Upon successful transaction, you will receive an SMS with all details.
Please keep in mind that the confirmation SMS is actually your official ticket, so do not delete the SMS.
How to make Pakistan Railway Online Booking?
Passengers can make online railway bookings with Pakistan Railways E-Ticketing's online booking reservation system. Just click the link www.pakrail.gov.pk and click on the Go For E-Ticket Tab you will find a page that requires your personal information like your full name, mobile number, email and CNIC number. After filling out the form click on the submit button to register yourself.
You will receive the code through SMS on your mobile number and an email on your email address. Enter the code on the account creation page and follow the link given in the email to complete your verification.
After successfully registering with Pakistan Railways Online Booking, you can book your train ticket online. After the login selects your start and end station with the departure date and clicks "Book Now" to reserve your train tickets online.
After booking the seat you will be given the details of available trains for your journey. You can select a train, class, and available seat for your journey. You need to provide and read the details carefully to reserve a ticket.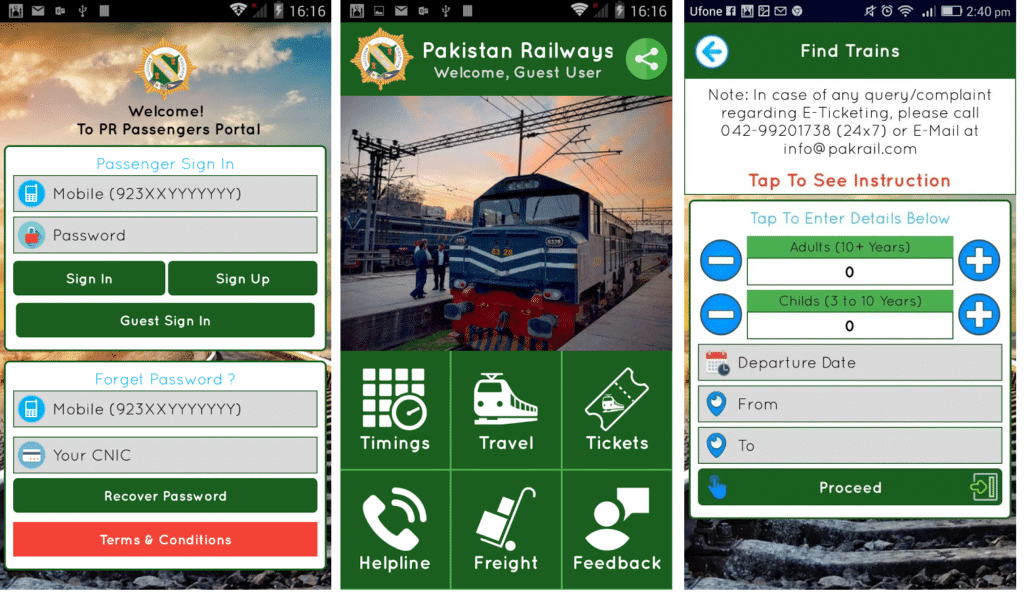 Finally select the payment methods UBL Omni, UBL Mobile Account, JazzCash and Easypaisa, and credit/debit card.
You will obtain the order ID valid for the next 2 hours. If your fee is not received in the specific time period, your reservation of train ticket online will be canceled and the corresponding seat will be re-opened for other passengers.
Note:
In case you are not getting your refund amount, please call 0300-4279920 (Mr. Zaheer Iqbal)
For any complaints regarding the e-ticketing system please call Pakistan Railway's helpline at 042-99201738.
In case you are not receiving SMS, please call 0308-4440479 (24×7)
Some important instructions for the passengers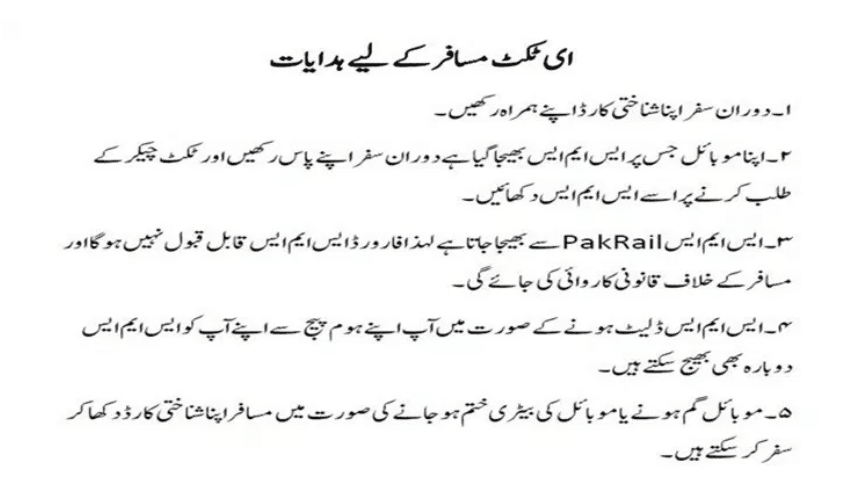 JazzCash Payment For Online Railway Ticket Booking:
You can also purchase Pakistan Railways tickets online directly from your home by using the JazzCash mobile account To buy online Pakistan Railways Online Booking tickets with JazzCash is very easy you just need to visit https://www.pakrail.gov.pk/SeatAvailability.aspx
After opening the link mentioned above select your train and pay through JazzCash using your
JazzCash Mobile Account
Debit/Credit cards
Or by visiting the nearest JazzCash retailer using voucher number
You can make booking online Pakistan Railways tickets for any train 12 hours before the departure.
Furthermore, you can also cancel/refund the purchase ticket 30 minutes prior to the departure (Railway's cancellation policy will apply).
For online railway booking tickets, you need to follow the above-mentioned process and then select the payment method JazzCash.
For complaints regarding payments with JazzCash, you can call the helpline at 4444.
For Online Booking of Pakistan Railway Ticket, you can also download the Pak Railway Online E-ticket Booking App at Google Play Store. and also on the Apple App Store.
You can call the Pakistan Railways helpline regarding complaints about the e-ticketing system.
On the whole, I hope this article will help you a lot to understand the Pakistan Railways Online Booking system and you can easily book your train ticket online right from your home through Pakrail.