Pakistan's General Elections 2018 are scheduled to be held in on 25th July.
Pakistan's General Election 2018: How to Check Voter Registration Status? Pakistan Muslim League (PML N) got victory in the elections 2013, led by twice Prime Minister Nawaz Sharif, and emerged as the major party with 166 seats out of a of 342 in the National Assembly.
Later on the Supreme Court disqualified former prime minister on 28th July 2017 due to his employment with FZE Capital and for not disclosing the Avenfield flats and offshore assets.
The court then directed NAB to file references against Nawaz Sharif and his family and yesterday on 6th July, 2018 The National Accountability Court (NAB) has announced its verdict in the Avenfield flats reference.
Ex- Prime Minister Nawaz Sharif, Maryam Nawaz and Captain Safdar will now have to face 10 years in prison and 8 million pounds fine, 7 years in prison and 2 million pounds fine and one year in jail respectively.
Now it's a time to form a new government in Pakistan and the Election Commission of Pakistan (ECP) has completed all the necessary preparation for the Election 2018 schedule to take place on 25th July.
ECP has issued final list of candidates, and as per the list  3,675 contestants are in the electoral arena for the National Assembly's seats, 1,696 candidates are contesting from Punjab: 760 from Khyber Pakhtunkhwa; 872 from Sindh;and 303 are in the field from Balochistan for the lower house of the Parliament.
ECP has also finalized the lists of registered voters in the country and in order to provide easy to voters ECP has joined hands with NADRA to launch SMS service so that the voters can easily check their registration status from anywhere.
How to Check Voter Status via SMS?
Voters can check their vote status to participate in the Election 2018 by sending a text message by writing the number of their Computerized National Identity Card (CNIC) without dash in the message and send it to 8300.
After sending the SMS you will instantly get the automated response with the name of the electoral area, block code and serial number.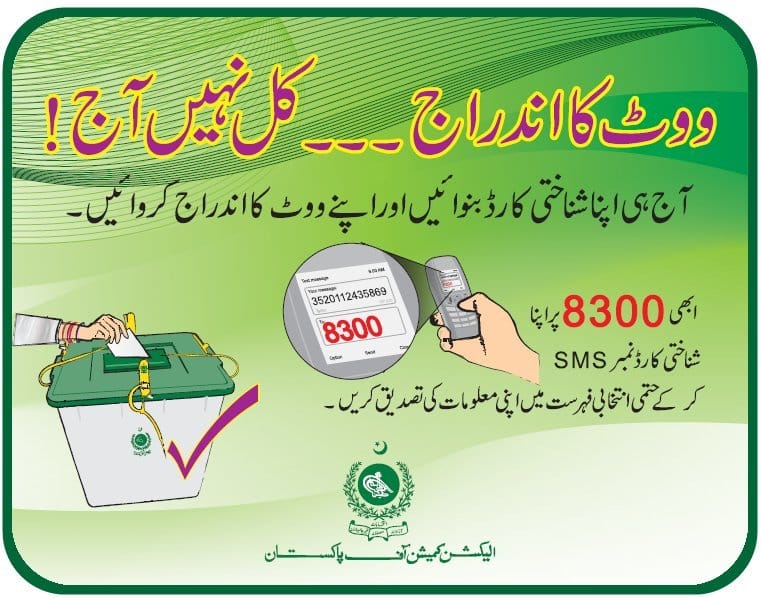 SMS Charges?
Rs. 2 service charges are applicable.
Every registered voter can check his/her particulars by visiting their respective District Election Commissioner's office located in their area. The addresses of the DEC offices across the country are available at the ECP website.
You can check here the list of ECP offices across Pakistan:
How to Register?
If you can find your vote status and want to register yourself as voter to participate in Pakistan's General elections 2018, you can submit your application along with a copy of your CNIC to the District Election Commissioner (DEC)/ Registration Officer/Assistant Registration Officer of the district before April 30, 2018.
It is important to mention here that ECP has still not given the voting status to overseas Pakistanis but they can cast their vote if register by visiting the country on Election Day.
On the other hand the Secretary ECP, Babar Yaqoob Fateh Muhammad talking to a delegation of transgender who called upon the secretary ECP last year hoped that disable persons, women and transgender will actively participate in upcoming elections.
This is not confirmed yet either they can cast vote in the Election 2018 or not.
For more information stay in touch with daytimes.pk.
You can follow us on Twitter, add us to your circle on Google+ or like our Facebook page to keep yourself updated on all the latest from Technology, Entertainment, Sports, Gadgets, Latest Government Jobs, Cooking Recipes, Health and Beauty, Autos and Vehicles and Much.