Teaser Picture Sparks Excitement and Anticipation Among Fans on Facebook
Since the arrival of new entrants in the automotive landscape, many products have launched and generated varied responses. Among all new entrants, Master Changan has emerged as the #1 within a period of just 5 years and is now driving new standards for the Pakistan auto industry. With its diverse and attractive product range, Master Changan has won the hearts of the Pakistani consumer. In a recent Pakwheels online survey more than 100,000 people selected Changan's products as the most loved in each of their respective categories, Changan Karvaan MPV won 79% votes in the van category , Changan Alsvin won 51 % of votes in the sedan category and Changan Oshan X7 won 46% of votes in the C SUV category.
The Changan Karvaan MPV celebrates friendship, family and togetherness in a heart-touching manner, Alsvin with Pakistan's only Effie Gold winning automobile campaign – "Drive Your Dreams". As the brand matured, the company fittingly launched a follow-up communication – "A world beyond dreams". Last year, Master Changan launched its most disruptive product so far – Changan Oshan X7 with a daring tagline – "Watch me move".
As the leading disruptor of Pakistan's automotive industry, Master Changan has set social media abuzz once again after unveiling a mysterious teaser picture on their official Facebook page. The enigmatic image, released on 1st June, has left fans and followers eagerly speculating about what the brand has in store for them.

The teaser picture, accompanied by an in-picture text that reads, "Ray of light is calling you. Stay tuned 09.06.2023" has captivated the attention of over 300,000 followers on Facebook. The image showcases a mysterious visual, filled with intrigue, and embodies the essence of Changan's commitment to pushing boundaries and delighting their loyal customer base.
The teaser was followed by more posts that have sparked thought provoking discussions amongst the Pakistani auto experts and consumers.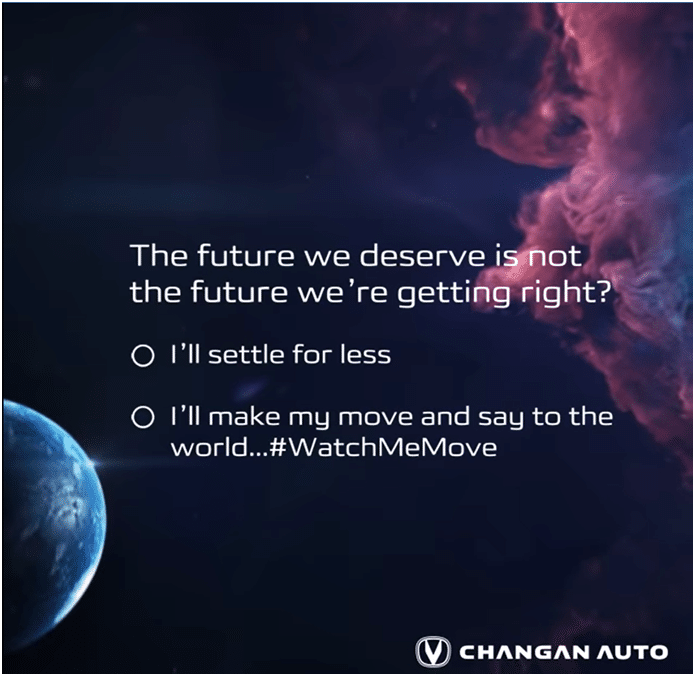 The first teaser highlights the deeper underlying issue of Pakistan's auto industry: outdated models with old technology consistently being launched in Pakistan. Is a new model really a new product? Most of the time the so-called "new" models available in Pakistan have been phased out internationally.
Master Changan challenges these fundamental ideas by being the only player having launched the most number of latest generation products in the shortest amount of time. Master Changan's products offer the highest level of automotive technology and features. The company made history being Pakistan's only automobile brand to do a Global Premiere in the country with the launch of Oshan X7. The launch was broadcast live across the world through Changan's global partners and also initiated the export business for the company. Today, Master Changan is the only OEM that is exporting vehicles from Pakistan and initiating a new chapter in the auto industry.
Changan's Oshan X7 remains a clear winner as the ideal bridge between typical C-SUV and traditional D-SUV vehicles. With the recent increase in vehicle prices, customers are now struggling to find vehicles that have a low and efficient running cost, have a lower price tag and deliver extraordinary value.
Changan Oshan X7 (Seven Seater) Comfort variant, with a lowest starting price and the most fuel-efficient engine compared to the other flagship variants such as Kia Sportage and Hyundai Tucson, Oshan X7 actually provides the greatest savings and value for money in the SUV category with major benefits of being the largest in size and leg room space, most powerful and most fuel efficient Euro 6 engine, most feature-packed, most comfortable and overall safest.
With the prices of traditional D-SUV's going through the roof, Changan Oshan X7 FutureSense variant also offers budget friendly alternative to the Kia Sorento and Toyota Fortuner with the most fuel-efficient Euro 6 engine and many more hi-tech features like the Forward Collision Warning, Auto Emergency Braking, Heated and Ventilated Seats and more. The Oshan X7, packed with a powerful 1.5L Turbo engine, goes from 0 to 100 in just 8.23 sec with more than 300 Nm torque and 185 HP output.
At a time when fuelling costs is now a major concern for car buyers, the fuel efficiency of a vehicle is what matters. Instead of the usual 8 – 10 km/L fuel efficiency reported by just about any SUV user, Oshan X7 customers are amazed by its fuel efficiency and have claimed as much as 15 km/L during their trips to Northern Pakistan.
Changan Oshan X7 offers best-in-class cabin size, 1.5L Turbocharged engine that goes from 0 to 100 in 8.23 sec, best-in-class rim size, industry-leading 5 year / 150,000km warranty and a fuel efficiency that puts even some of the sedans to shame. Master Changan is also running a test drive campaign at all dealers to let buyers experience before making a decision.
The second and third teasers ask people if they are a follower or a trend setter. For years, the auto industry has seen people follow trends and not create one. Master Changan always challenges the status quo and sets new standards with the promise to keep pushing the boundaries for the Pakistani automobile consumer to bring them the future they deserve. With its innovative and disruptive approach, Master Changan has delivered best-in-class products and experiences to its customers. Oshan X7 as a product is targeted towards those that do not settle for less and want the best of what the world has to offer– It's for those who are the challengers, the trendsetters and the future makers.
Master Changan has established itself as a change maker and trend setter with incredible achievements for not only the automobile industry but for the county as well, such as:
It is the first automobile company to have exported its locally manufactured vehicles from Pakistan.
First automobile company to have a Global launch of its vehicle from Pakistan to the world.
Introduced Pakistan's first Euro 6 engine, the most environmentally friendly and fuel efficient engine available in the country.
First automobile company to do local testing of L3 autonomous vehicle technology in Pakistan.
Pakistan's first vehicle to have autonomous and intelligent driving technology locally tested and tuned. The suite is called "FutureSense" by the company.
The most environmentally friendly automobile production facility which is powered 80% by solar energy.
The most recent post from the brand on its page is one with a rising sun above the clouds. The message is very bold – "I'm headed to the top. Just watch me rise". Over the last 5 years, Changan has grown into a family of nearly 40,000 customers as per company information. Today, 27 dealers serve the nation from 17 cities offering sales, service and spares. While the post is a clear reference to the typical Oshan X7 customer – a headstrong non-conformist who is making waves and setting higher standards for themselves every day – the post is also a reference to the brand that has now become a strong automotive movement in Pakistan.
With this teasing sneak peek, Master Changan has successfully sparked a wave of curiosity and anticipation among its dedicated fan community. Social media platforms have been flooded with comments, likes, and shares as fans eagerly express their excitement and try to decipher the hidden clues within the teaser picture.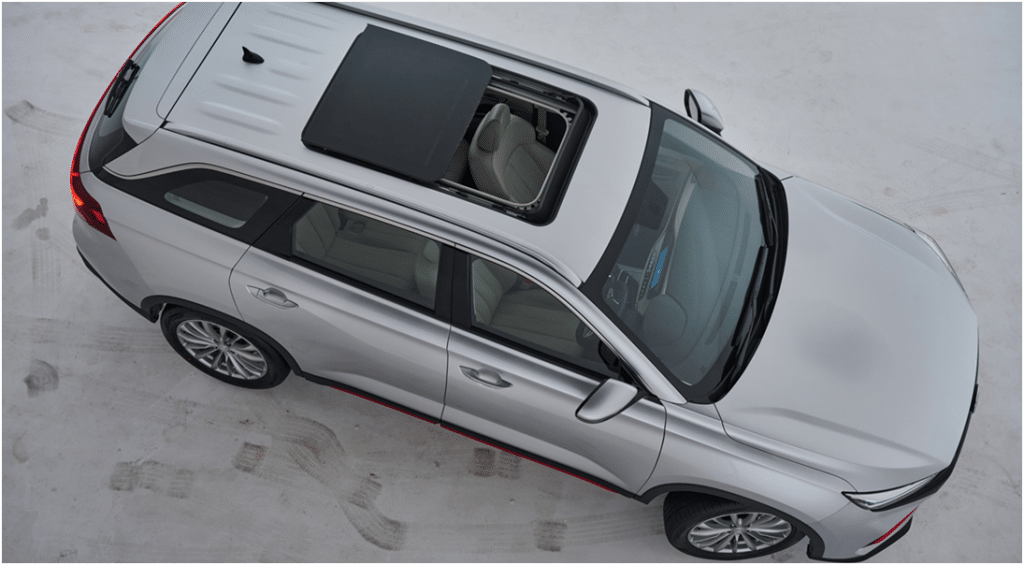 While the social media team at Master Changan remains tight-lipped, refusing to disclose any further details about the upcoming reveal, sources close to the matter suggest that this unveiling will begin a new chapter for Oshan X7, perhaps a new variant or a new communication campaign.
Changan has built a reputation for innovation and cutting-edge design, consistently pushing the boundaries by doing something unexpected through sales promotion or brand building. This teaser picture promises to be a precursor to yet another groundbreaking product or service that will captivate audiences and solidify Changan's position as an industry leader.
The company was formed as a joint venture between renowned Master Group and China's #1 domestic automaker, Changan with an investment of USD 136 million in 2018. The plant was built in a record period of 13 months and today packs a production capacity of 50,000 units per year. The Changan plant is the greenest plant in Pakistan with a renewable energy reliance of nearly 80% at its optimum levels.
To join in on the excitement, follow Changan on Facebook and keep an eye out for further updates. Stay tuned as the brand continues to unveil clues and hints leading up to the big reveal, generating even more buzz and anticipation.