DGI&P Passport Tracking Pakistan: Complete Details About the Online and SMS Passport Tracking in Pakistan
DGI&P Passport Tracking System in Pakistan—Step By Step Guide. It is the liability of the Department of Immigration and Nationality Affairs (DGI&P), which is a part of the Ministry of Interior's Department of Immigration and Nationality Affairs, to exercise documents such as passports, and Pakistan Citizenship Renunciation Certificates, visas, Pakistan Citizenship, and other things. The prime insistence of this department is on the effectiveness and value of the quality of systematic processes achieved via the use of technology, the amplification of facilities, the improvement of procedures, the execution of planned changes, and the digitization of processes.
The government of Pakistan had launched the Online E-Passport System in the country. This service is facilitating overseas Pakistanis to renew their Passports via an online system with a validity of t to 10 years period of the renewed passport. The e-services portal is developed to facilitate the citizen of Pakistan living abroad to renew their passports if they have expired. This e-services portal is a hassle-free way to renew expired passports.
It means you did not need to worry about going to the passport (Impass office) office to get them renewed and also no need to worry to wait for a long time in lines.
IMPASS stands for "Immigration and Passports". The IMPASS Office gives a one-stop-shop for passports and immigration requirements. People of Pakistan go to the IMPASS Office to get their passports and to supervise their immigration requirements.
Impass Offices in Pakistan:
There are nearly 180 regional IMPASS offices in Pakistan that are providing better service to its residents. Passport offices in Karachi and Islamabad have opened Regional Passport Offices (RPOs) for the elderly, and this service will be progressively rolled out to other offices. A new Passport application program prioritizes older persons automatically (over 65 years). New Passport Application One Window Operation has been introduced at 32 Regional Passport Offices, which will be expanded to all offices in the near future to expedite the processing of passport applications.
A passport applicant's photo, token, biometric data, and other personal information are all collected at a single location/desk using a single-window process. In One Window, separate counters have been set up for women and those with disabilities. All Pakistani citizen is eligible for a machine-readable passport MRP for travel abroad, provided that all codal procedures have been completed.
The Online E-Passport System service is also available now for the citizen of the country, they can also use this online e-service portal to renew their passports if they have expired. The whole procedure of Online Passport Renewal needs only 16.5 minutes and then it will be delivered to your doorstep anywhere in Pakistan and other countries within 10 days. You are also tracking the status of your renew passport.
E-Passport in Pakistan:
The new biometric passport will have an electronic chip that will be inserted inside the passport. According to the minister, the new passport has had "a tremendous upgrade since 2004" in the form of 29 new and sophisticated security elements. You may use E-passport to use the e-gate service at any international airport around the globe. The new biometric passport will include a slot for an embedded electronic chip.
Passport Tracking in Pakistan:
In order for their passport application status to be sent to them through SMS code 9988, all nations are required to submit their correct mobile phone number during the phase of the passport application procedure known as "Data Entry."
To ease the passport applicants, the Directorate General Immigration and Passport introduced passport tracking in Pakistan in two ways online and SMS service.
Those who have applied for passports can check their status with the passport tracking system in Pakistan.
Below is the complete method of passport tracking in Pakistan by token number:
Passport tracking in Pakistan via SMS
Passport tracking in Pakistan by token number online. The applicant can check the status of the passport and application processing via SMS.
Method:
Applicants just need to type 11 digits Token Number from the message corner of their mobile phone and send it to 9988.
The 11 digits Token Number will be printed on the Token Receipt you get when you apply for a Pakistani Passport.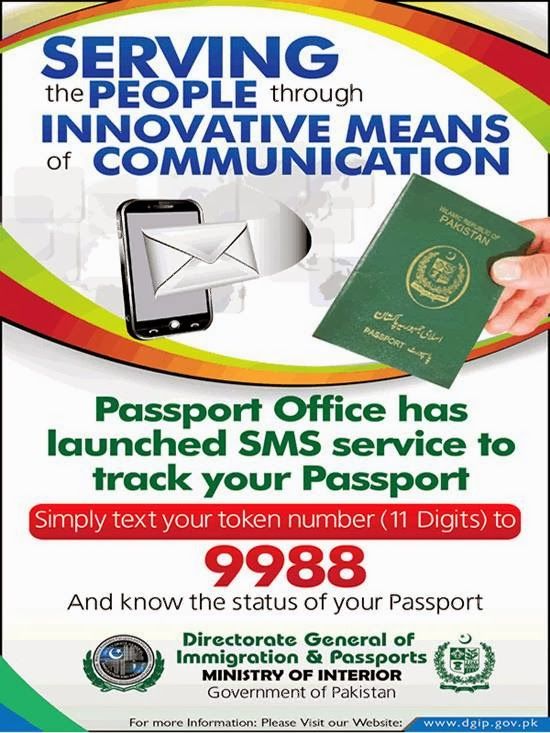 Online Passport tracking in Pakistan
You can also track the status of your Pakistani Passport online. For an online Passport tracking system in Pakistan applicant needs to create an account. Following the below-mentioned link for passport tracking in Pakistan by token number online. After opening the link you need to create an account by providing your personal information.
After the successful account creation, you can utilize the passport tracking system in Pakistan and get the status of your machine-readable passport. Every time you need to Click here by providing your 11-digit tracking number to track your Pakistani Passport status online. The applicant can track the Pakistani Passport status online 3 times a day.
Passport tracking in Pakistan by token number online is free of cost.
The applicant can also email their queries regarding the status of their Pakistani Passport at opts@dgip.gov.pk by giving the information they are seeking along with the complete name, contact number, CNIC, contact address, and also 11 digits token number.
You just need to enter the 11-digit code and you will find the details of whether your passport is printed, rejected, or delivered and all other details that the impasse office gives us in response.
How to Register Complaint?
Should there be a delay in the delivery of our passports, we reserve the right to lodge a complaint with either the regional MPASS Offices or the DGI&P. By utilizing the software that is called the Pakistan Citizens Portal, we may also lodge a complaint. Regional IMPASS Offices have established complaint cells with the purpose of making things more convenient for Pakistanis.
IMPASSE Office Contact:
Email us at info@dgip.gov.pk with your full name, phone number, CNIC (Pakistanis) or Passport (foreigners), and your contact information, such as your name, address, and phone number.
You can also check the status and can track your Passport from this helpline.
Directorate General of Immigration & Passports
Headquarters, Mauve Area, G-8/1,
Islamabad, Pakistan
For International User's: 0092-51-111-344-777
For National/Mobile User's: 051-111-344-777
Email: info@dgip.gov.pk
For more updates stay in touch with daytimes.pk