Complete details about the public holidays in Pakistan in 2023.
Today you will find here the complete detail about the public holidays in Pakistan in 2023. Public holidays in Pakistan are observed as per the Islamic calendar for religious festivals and the Gregorian calendar for civil occasions.
The government has announced the official public holidays in Pakistan in 2023, as per details the following list shows how many public holidays will be in 2023, besides Eid ul Fitr, Eid ul Azha, Independence Day, Ashura, Eid Milad un Nabi (SAW), and Quaid-e-Azam Day.
Eidul Fitr holidays in Pakistan in 2023 will start from 22 to 24 April, whereas the Eidul Azha holidays from June 29 to July 1. The Muharram holidays will be on 28 and 29 July.
 HERE IS THE LIST OF PUBLIC HOLIDAYS IN PAKISTAN IN 2023:
Date
Day
Holiday
5th February
Sunday
Kashmir Day
23rd March
Thursday  
Pakistan Day
22nd April
Saturday
Eid ul-Fitr Holiday
23rd April
Sunday
Eid ul-Fitr Holiday
24th April
Monday
Eid ul-Fitr Holiday
1st May
Monday
Labour Day
29th June
Thursday
Eid ul Azha Holiday
30th June


1st July
Friday


Saturday
Eid ul Azha Holiday


Eid ul Azha Holiday
27th July
Thursday
9th Muharram
28th July
Friday
Ashura
14th August
Monday
14th August
28th September
Thursday
Milad un-Nabi
9th November

25th December
Thursday

Monday
Allama Iqbal Day

Christmas Day
25th December
Tuesday
Quaid-e-Azam Day
The official notification by the Interior Ministry of the government of Pakistan for the Public Holidays 2023 is posted here.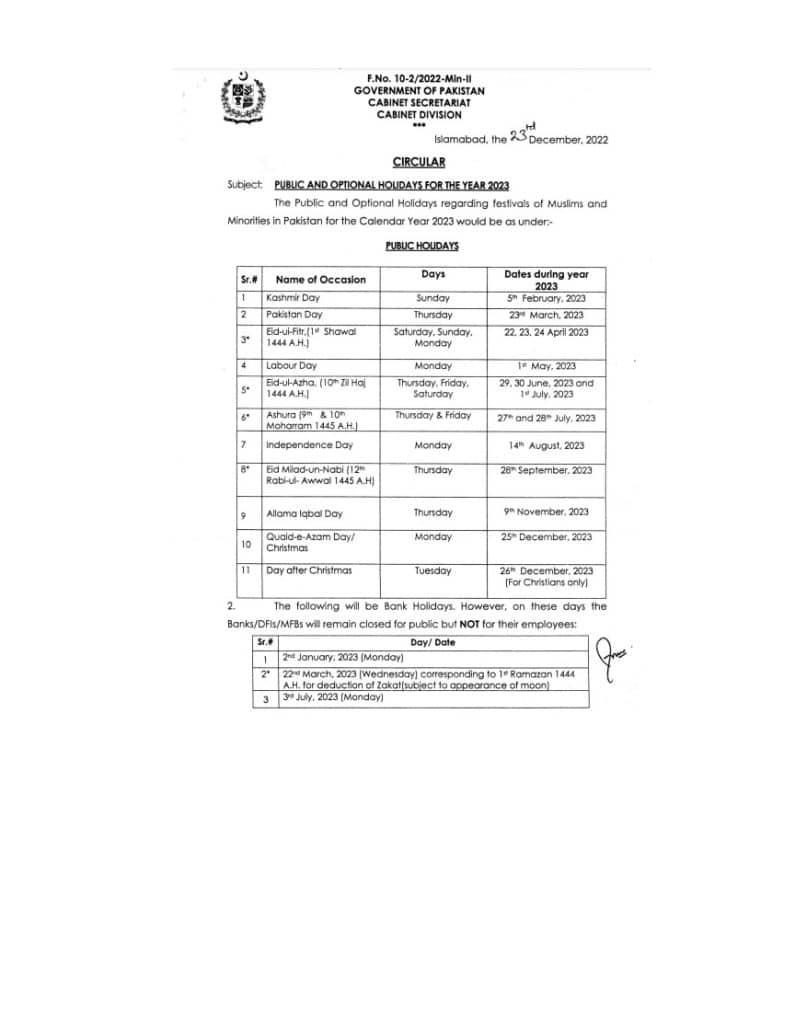 The federal government also listed 23 optional holidays, including New Year, Basant, Shiv Ratri, Holi, Dulhandi, Shab-e-Mairaj, Good Friday, Easter, and Nauroze, for government officials.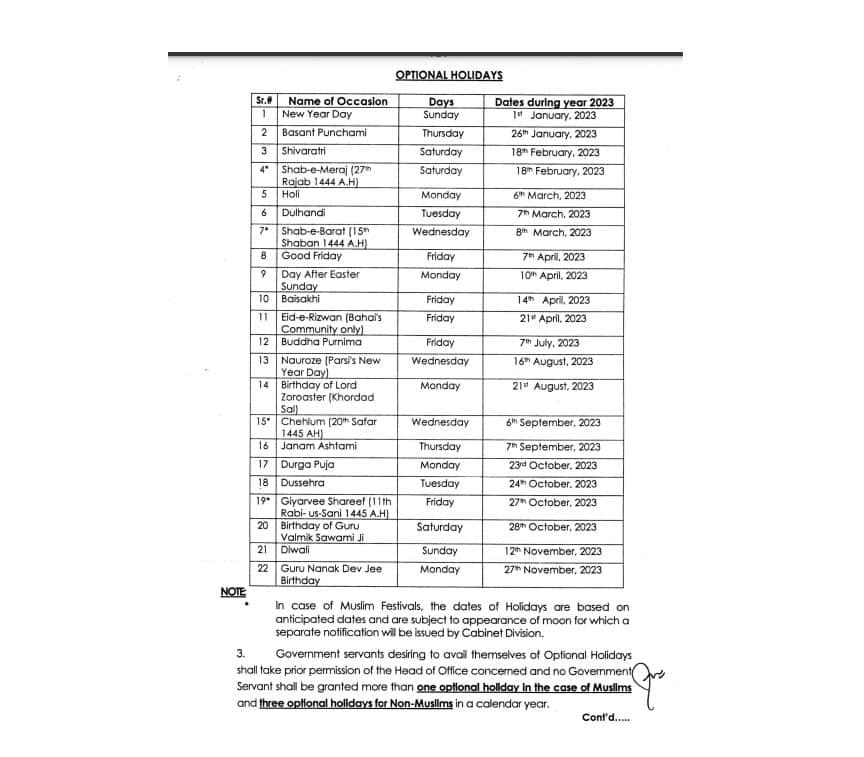 Here is the notification of optional holidays in Pakistan in 2023: