Sleeping left side every night has a profound impact on human life, we often hear our elders that we should sleep on the right side but the left side at night has a number of benefits that we were unaware of till today.
Here are some health benefits of the sleeping left side at night: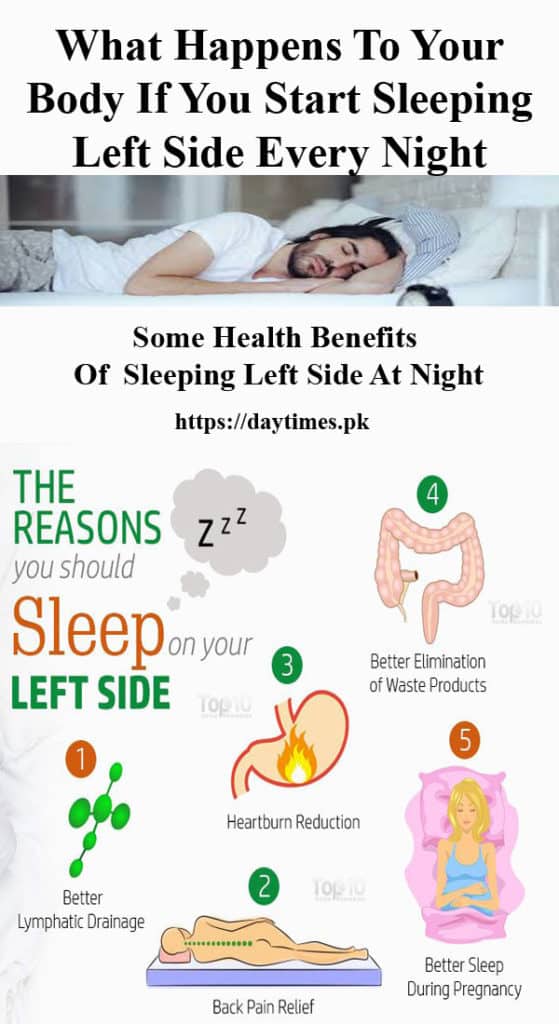 Rapid Digestion:
Slow digestion often leads to many gastrointestinal problems, including heavy stomach, constipation, and nausea. According to modern scientific research, sleeping on the left side makes digestion better and faster because the stomach is on the left side and when we sleep, the food easily transfers into the intestines, making the digestive system to function properly.
Reduces Heartburn:
Experts say that sleeping left side reduces the chances of heartburn by not letting the stomach acid enter the throat, therefore, you don't feel irritation.
Increases blood flow:
To take care of the heart is very much essential because it works a regular 24 hours. In order to provide the proper blood to the whole body, it is necessary to sleep the left side so the heart does not need to work hard for blood supply. It also keeps the heart always young and flows blood easily to all organs.
No more back and muscular pain:
Some people complain that even after 8 hours of sleep, they feel burdened and tired in the morning while some people have said to feel anxiety and muscular pain. According to doctors, the sleeping left side does not burdened the back and also reduces muscle aches.
Improved health of pregnant women:
Women experience a number of complications during pregnancy, including discomfort in sleep, hypertension, and pain in various parts of the body. Experts say that the health of pregnant women will be as good as it should be without disruption of sleep.
You won't snore again:
If your partner complains about snoring, you can get rid of it by sleeping on the left side. In sleep, our tongue, throat, and palate are in a complete state of relaxation, and exhalation is caused by open-air pressure during breathing. Experts say that the left side sleep causes the respiratory tract to flow and does not produce air pressure, which does not cause snoring.
Hope it will be beneficial for you……let us know by sharing your precious thoughts.
For more updates stay in touch with daytimes.pk
You can follow us on Twitter, add and like us to your circle on Facebook page, keep yourself updated on Linkedin and Instagram. You can also subscribe to our email newsletter to get daily alerts from Technology, Entertainment, Sports, Gadgets, Latest Government Jobs, Cooking Recipes, Health and Beauty, Autos and Vehicles and Much More.