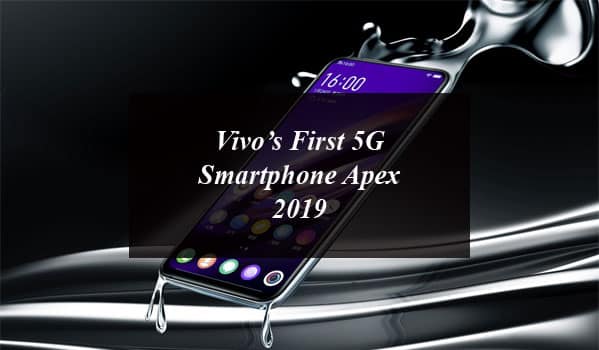 Vivo Company has introduced the first 5G mobile phone, with advanced features, latest technology and has been called the Apex 2019.
Accordingto details, China's largest mobile company, Vivo has introduced its first 5Gmobile phone with the latest features including the full screen fingerprintreaders, a waterproof glass and it does not have a single port.
The company'ssenior vice-president, Spark Ni said that Apex 2019 is a truly exceptionalsmartphone and has been linked to a finger scanning option.
Just like the Meizu Zero that launched yesterday, the Vivo APEX 2019 does not feature any physical ports or buttons.
Vivo has officiallyintroduced its new Apex smartphone in Beijing. This is the first 5G smartphoneof the company with the waterdrop glass design, has no holes, and its screen isbasically equipped with the Touch Sense technology, which brings togethercapacitive touch and pressure-sensing.
The vice president said that the company has made this smartphone by making the users' ease and the future of smartphone design and development.
Vivo willbe putting the handset on display at next month's Mobile World Congress (MWC)2019 in Barcelona.
Here is the complete detail of the Apex 2019specifications:
APEX 2019introduces a sleek and truly FullViewTM design that's almost completelybezel-less. The phone actually has a 3D glass back which is home to a dualcamera setup that's placed vertically in the center.
It makesuse of Qualcomm's X50 5G modem. It has a Qualcomm Snapdragon 855 processor and256GB of expandable storage with the 12GB of RAM and onn board storage is at 64GB.
There'sno headphone jack or a Type-C USB charging port as the Apex 2019 by Vivo doesnot have a single physical port or buttons.
For charging the users need to use the rear-mounted magnetic connector that will also be responsible for data transfers.
Vivo Apexfeatures a 5.99″ (15.21 cm) display with a 1080 x 2160 pixels of screenresolution. It is powered by the 2.8 GHz Octa core processor and runs onAndroid v8.0 (Oreo) operating system. The handset is said to feature pop-upselfie camera and is powered by the 4000 mAh battery.
Vivo Apex 2019 Price:
The priceof Apex 2019 is round about 1 Lakh in Pakistan.
For more details about the Vivo Apex 2019 stay in touch with daytimes.pk
You can follow us on Twitter, add us to your circle on Google+ or like our Facebook page , keep yourself updated on Linkedin and Instagram for all the latest from Technology, Entertainment, Sports, Gadgets, Latest Government Jobs, Cooking Recipes, Health and Beauty, Autos and Vehicles and Much More.