Complete Details about the Life history and achievements of Yousaf Saleem the first blind civil judge of Pakistan
Meet Yousaf Saleem, Pakistan's first Blind Civil Judge: Life, History and Achievements. Today we will talk about the Yousaf Saleem who is visually impaired Pakistani civil judge. He took oath on 26th June 2018 and become the Pakistan's first blind judge. Mr.Saleem who is a topper but first denied the position but was reevaluated and recommended for the position of civil judge after an interference by Chief Justice of Pakistan Saqib Nisar. There are a number of example of virtually impaired judges in other countries but in Pakistan he is the first civil judge with blindness.
He took the oath on June 26, the oath ceremony was held at Punjab Judiciary Academy and attended by the Lahore High Court Chief Justice Muhammad Yawar Ali, who administered the oath.
The oath ceremony was also attended by the LHC registrar Bahadur Ali Khan, Directorate District Judiciary Director General Rao Abdul Jabbar and District and Sessions Judge Establishment Sardar Tahir Sabir, senior puisne judge Justice Muhammad Anwarul Haq, and Punjab Judiciary Academy Director General Fakhar Hayat.
Achievements:
He became the Pakistan's first blind judge on 26th June 2018 after the intervention by the Chief Justice of Pakistan Saqib Nisar. Mr. Saleem, 25-year-old, is a visually impaired blind judge of Pakistan with the gold medal of University of the Punjab in LLB (Honors) program in 2014.
He also topped written judicial exam out of 6,500 candidates in 2017. He was among the top 21 candidates out of 300, who were interviewed, but was failed in interview because of his visual disability. The Chief Justice of Pakistan took suo motu notice and in this case and directed the Lahore High Court (LHC) chief justice to review the case.
Later on he was selected as the Civil Judge on merit after the intervention of Supreme Court of Pakistan. As per the Supreme Court order according to Constitution of Pakistan, disable person can be made judge and not doing so is against basic rights. Mr. Saleem has received a letter from the LHC on 12th May about his appointment as Civil Judge-cum-Magistrate.
Yousaf Saleem While Taking oath as Civil Judge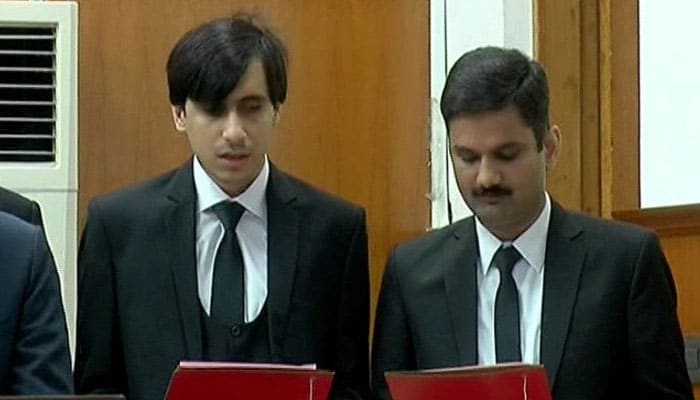 While talking to media he had thanked the Chief Justice of Pakistan for taking notice of the situation and the chief justice of Lahore High Court and selection committee for reviewing his case.
He also worked as an assistant director (legal) in a department of the government of Punjab.
He was very excited of becoming a civil judge as he achieved his long lasting dream with the help of CJP. Mr. Saleem said that although he is blind but he did not loss hope and tried to achieve a goal in life he said that his inspiration comes from the founder of our Pakistan, Muhammad Ali Jinnah.
He has high ambitions and wants to work hard to be the next Chief Justice of Pakistan.
After Yousaf Saleem took the oath as first blind civil judge may people congratulate him for his achievement and some of them said that he set an example and is an inspiration for all those who have physical disabilities.
Life History:
Yousaf Saleem is the son of a charted accountant. He is the youngest among siblings and is visually impaired by birth. He has four sisters and two of them are blind as well. Saima Saleem on of her blind sisters has passed civil service exam (CSS) in 2007. She was also awarded with a gold medalist in English from Kinnaird College, had scored the 6th position and selected for the Foreign Service and served in UN missions in Geneva and New York.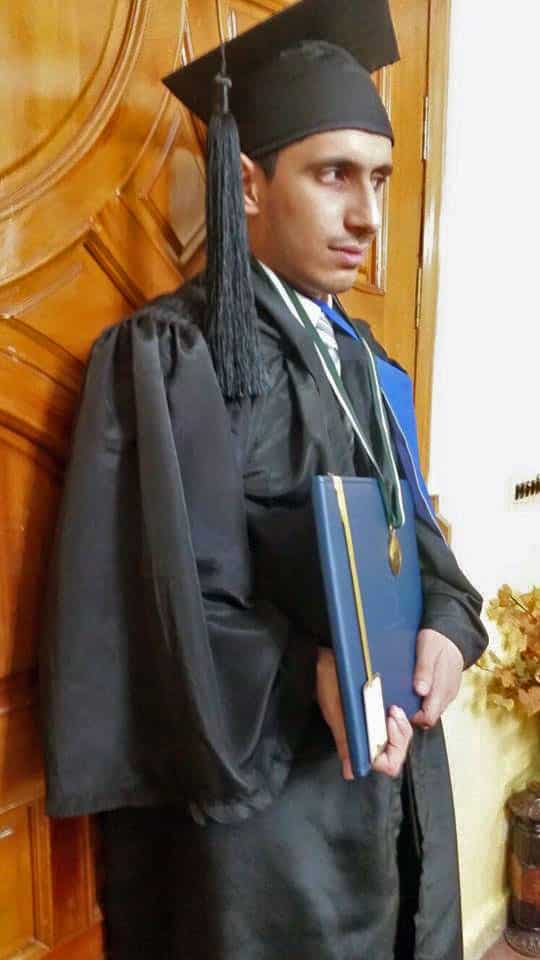 The other sister of Yousaf Saleem, who is also blind and serving as a teacher at a university in Lahore while pursuing her PhD. History has been made, as Yousaf Saleem became the first blind judge in Pakistan after taking oath of civil judge here on Tuesday.
Yousaf Saleem has broken the thinking of stereotypes and proved that the blind people can do big things and able to fulfill their dreams.
In Pakistan there are a number of physically disabled people but due to hard work and dedication they set examples of others to achieve life goals as normal people doing.
Earlier we discussed about the brave girls in the world Zahra Abbas, who was born with all four limbs disability but set example for all the disables. To live life with disability is very difficult but her parents support her to achieve her dreams. She herself showed a great courage by not letting her disability to stop her from achieving success in academics and career.
She is presently having a successful career as a motivational speaker Management, Development, and Consulting organization.
You can watch here the exclusive interview of first blind judge in Pakistan Yousaf Saleem :


You can follow us on Twitter, add us to your circle on Google+ or like our Facebook page to keep yourself updated on all the latest from Technology, Entertainment, Sports, Gadgets, Latest Government Jobs, Cooking Recipes, Health and Beauty, Autos and Vehicles and Much.